Remembering Ni Po-Feng (1950 - 2013)
Singing Alleluia in God's Choir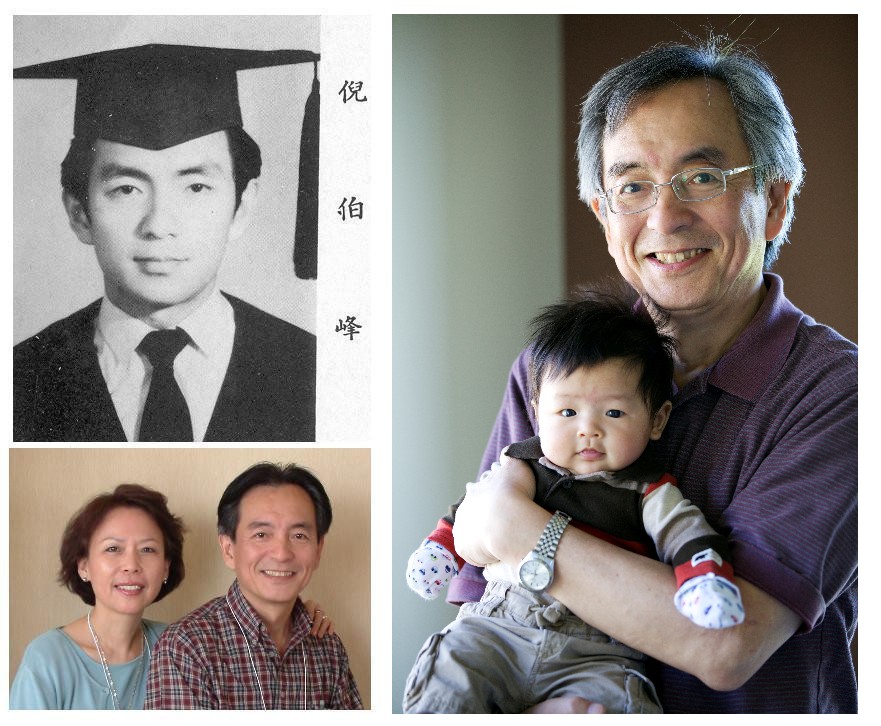 Ni Po-Feng graduation photo,Po-Feng and You-Huei at the 30th reunion,Po-Feng with grandson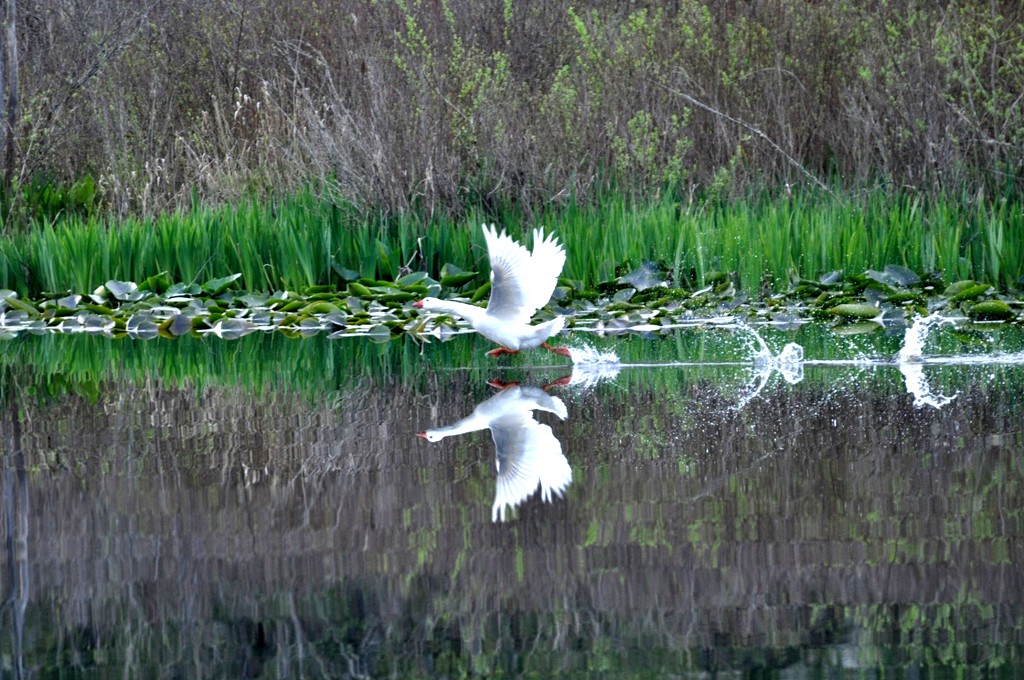 Swan Lake - a contest winning photograph by Po-Feng
Thank God for Your Life Among Us(Elizabeth Rice)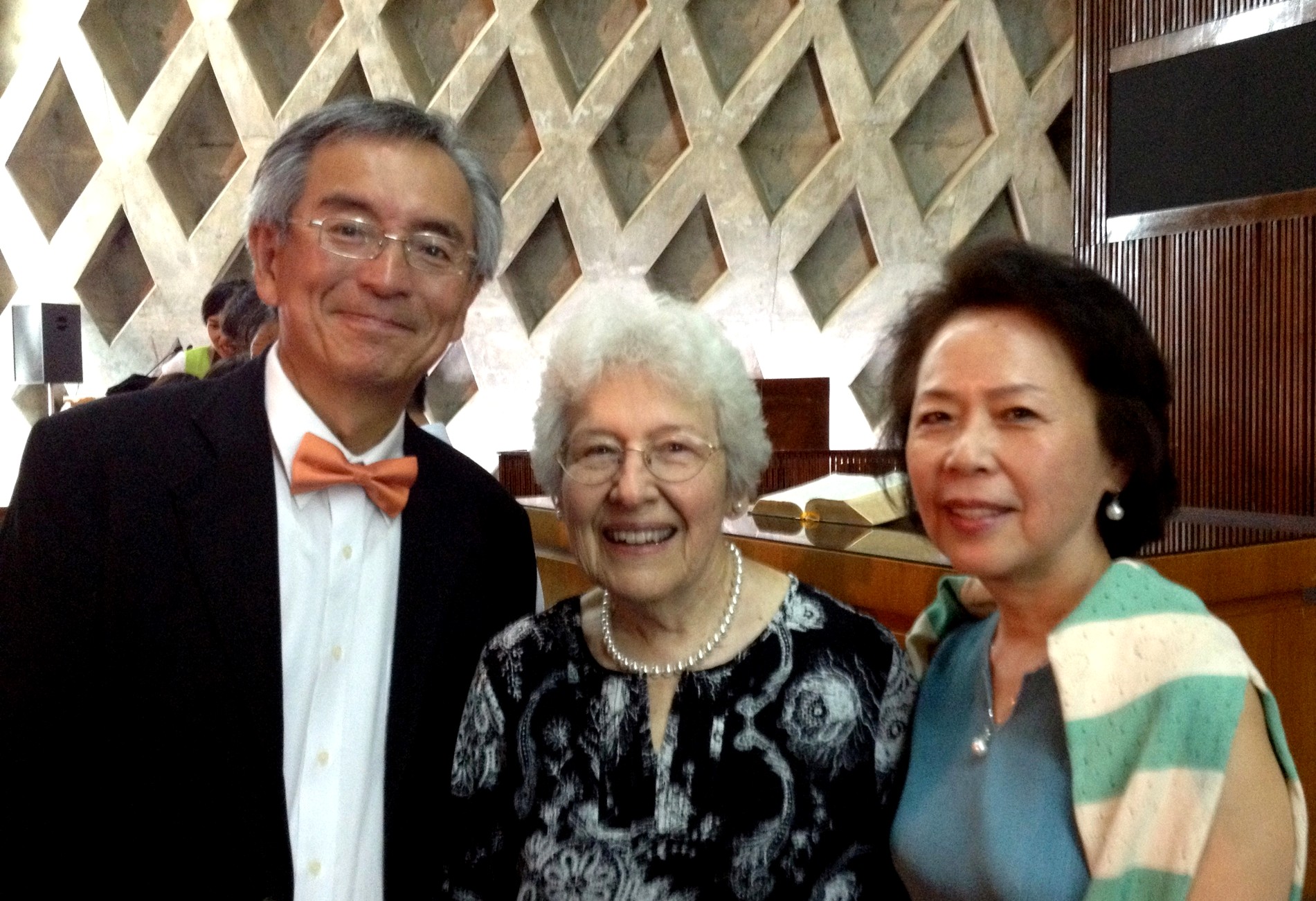 October 2012 At Luce Chapel
I was so shocked and saddened to hear about Ni Bo-Feng's passing, as many of you were. He was such a vibrant and thoughtful person, even though quiet and reserved. His obvious love for music was always evident, even as a student at TungHai. In his essay about our 2012 reunion, he quoted the names of so many of the songs we had sung, some of which I had forgotten. I remember him as Melchior when we presented "Amahl and the Night Visitors" before Christmas one year. The solo he sang was so moving, speaking of the Christ child whose kingdom was built on love alone.
I also remember at one of our reunions, 2004 or 2006, we were visiting the old Taiwanese village not too far from TungHai. I was walking with him and You Huei and 2 or 3 others, when we passed a coffee shop and he suggested we go in for a coffee and to sit down a bit. I was so grateful, for I needed a few minutes rest!
We will miss him dearly. But how fortunate we are to have known him in this context of music we have sung together. For he will never be far from us as we continue to sing Alleluia in praise to our God. Thank you, Bo-Feng, for your friendship, and thank God for your life among us.
— Elizabeth Rice
Remembering Po-Feng(Ni Chi-Chung and Chi Yu-Ho)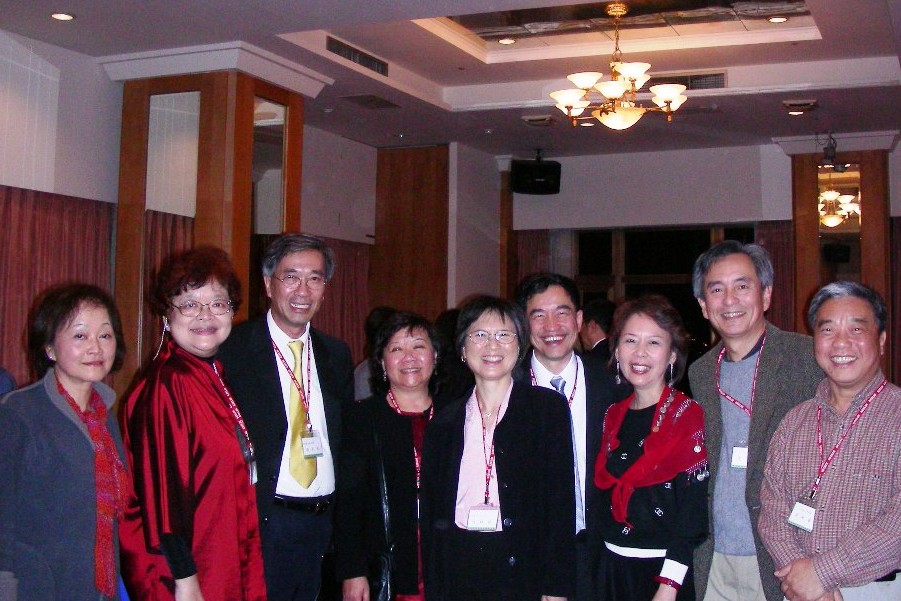 January 2006 choir reunion at Tunghai
On the night of November 15, Chao-Chen sent me the following text: "Yu-Ho, do you know Po-Feng has been taken by the Lord and bade us farewell forever?" I was shocked by the text message and could not bring myself to believe it. After verifying the news with Chao-Chen, I called Chi-Chung who's working in Ching Mai, Thailand with the bad news. He was overwhelmed and kept saying: "Who told you? It must be a mistake! Please you have to get to the bottom of this." Chi-Chung could not accept his good friend who had been his roommate in college, who is like a brother to him and bears the same last name as he would leave us so devastated.
Po-Feng had a gentle temperament. He was very thoughtful and observant, often doing things for friends without prompting and without expectation. Chi-Chung said he learned about music and photography from Po-Feng. They were roommates during the sophomore and senior years. During their sophomore year, Po-Feng would listen to his music in the dorm, and Chi-Chung would follow along. If he came upon a piece that resonated with him, Po-Feng would explain the history of the piece, the author, and the style. He even took Chi-Chung home to listen to songs in the "music room" built by his father that had good sound insulation. They counted each other among their closest friends. It is well known among classmates that Po-Feng excelled in photography. Chi-Chung learned a lot from him. One semester, in his final report in embryology, Chi-Chung used photography to document the process where an embryo turned into a little chick. He was rewarded an AA for the report!
During their senior year, they decided to adopt a puppy for their dorm room. Besides Po-Feng and Chi-Chung, the other four roommates were Hu Chi-Lung, Cheng Yao-Huang, Yang Hou-Te, and Wang Sheng-Tai. They were a bunch of twenty something kids trying to raise a puppy. One day at the choir rehearsal I asked Po-Feng if it was difficult to look after the puppy. He said getting up in the middle of the night to feed the dog was painful. No one wanted to get out of bed, so they ended up calling out to each other to volunteer; he also said it was embarrassing to wash the milk bottle in the public bathroom. The guys from other dorms would make fun of them. He said it with such simplicity yet painted a vivid picture that I never forgot that story.
In truth, to be able to get to know and sing with Po-Feng in the choir was something I was most grateful. He was an excellent Bass singer. I was lucky to often sit directly in front of him. Po-Feng had a beautiful voice, very accurate count, and a voice filled with emotion. When I heard his voice behind me, I would also start singing naturally and with such joy. Singing these church songs, the members of the choir praised together and prayed together, worshiped together and beseeched together. In our happiness and sorrow, with one voice and one desire, we choir members became lifelong friends.
Last year(2012)in October we had another choir reunion. On December 18, Po-Feng wrote an essay on the songs we have sung together all these years to share with us. I immediately fell in love with the essay when I read it. Po-Feng never talked much. He usually listened to other people's chatter with a smile, but kept his own counsel. It was rare that he would share so much all in one shot! He started out with:

Sing Alleluia to praise the Lord!
「Let everything that hath breath praise the Lord. Praise ye the Lord.」(Psalm 150:6)
He then went on to say:

Thanks to Mrs. Rice, it was decided that "Alleluia" would be included in the list of songs to be sung at
the Choir reunion. to be able to sing "Alleluia" with my fellow Choir members is the most touching
moment of this reunion for me. Personally I feel "Alleluia" is one of the most meaningful as well as
the most profound of the many sacred songs we have sung in our Choir.
If I remember correctly, Mrs. Rice taught us to sing "Alleluia" in 1968 when I first joined the Choir.
40 years had gone past, in May of 2009, the choir I joined in a church near Seattle selected "Alleluia"
as one of the songs to sing at the Mother's day special Sunday service. The conductor told us that this
was a song which reminded us that we should still praise the Lord even in times of difficulty and
sorrow. Randall Thompson wrote this song in 1940 in the midst of World War II when the horror and
pain of the war was constantly on his mind. "The Lord gave and the Lord has taken away.
Blessed be the name of the Lord."
As I read Po-Feng's essay again, tears flooded my eyes. "The Lord gave and the Lord has taken away."Po-Feng has been taken by the Lord. It is a reality that is too difficult to bear.
He concluded his essay by stringing together the many song titles we had sung together to encourage us:

At this wonderful time of Christmas, let us ask the Lord to "Teach me, O Lord", and to "O Sing unto the
Lord". More importantly, let us "Rejoice in the Lord always". When we are troubled, let us "Cast thy
burden upon the Lord". When we feel unsure, we can "Lift Thine Eyes - Thy help cometh from the
Lord" because the Lord watches over us "slumbers not nor sleeps". In the mean time, remember what
Maria stated, "My Soul doth Magnify the Lord and my Spirit hath Rejoiced in God my Savior" (we sang
this in 1972.) Most importantly though, whether we are ready or not, let us sing "Alleluia" at any place
and at all time to Praise the Lord.

Thanks to Po-Feng's exhorting, we will sing Alleluia to praise the Lord at any time and in any place until we meet the Lord, until we see each other again in heaven!
We promise to cherish what you cherish most, your wife, You-Huei.
— Ni Chi-Chung and Chi Yu-Ho 倪執中.汲宇荷
Serendipitous Days at the Lake House(Lai Chao-Chen)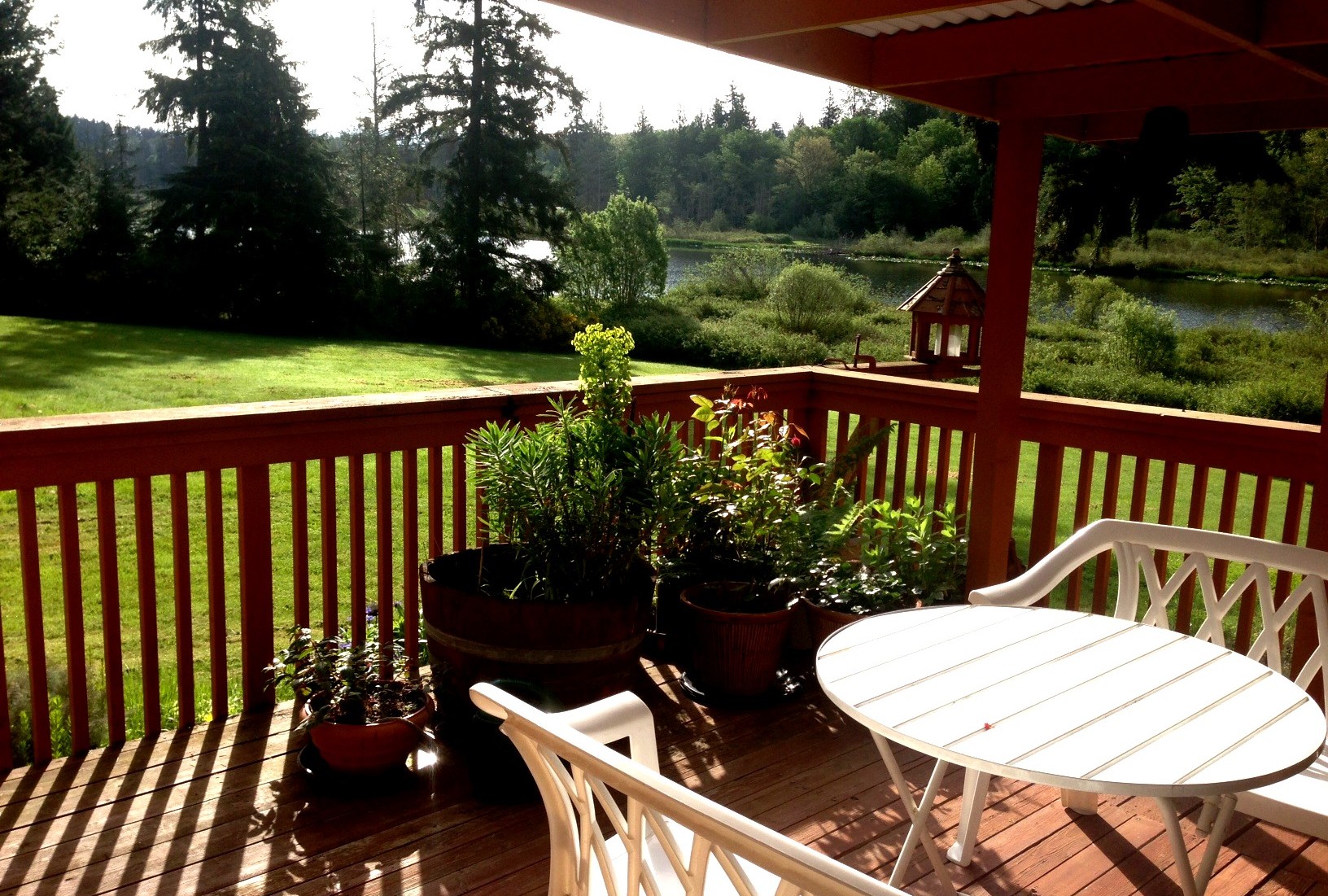 Po-Feng's home by a tranquil lake
In the middle of November I received the tragic news from Bi-Rong in Seattle that Po-Feng has been called home by the Lord, my mind went blank in that instant ...
Tears came gushing out, unbidden. I did not want to believe it, and immediately sent text to Huai-Chun and Yu-Ho to try to get verification (both their spouses were roommates of Po-Feng's at Tunghai). They were also shocked by my unexpected text and they had no news to share! It was only a few months ago I was in Seattle visiting. I saw Po-Feng enjoying his new role as a grandfather having the time of his life. How could he bear to part with his loving wife of almost fifty years and this brand new grandson without leaving any words?
It so happened that Ching-Mai and I had lost a few old friends unexpectedly these past two years. We decided starting from this year we would, carpe diem (seize the day), try to make an annual "reconnect" trip to the US to look up old friends. In June this year we decided at the last minute to stop in Seattle, a place we last visited twenty five years ago. Besides a visit with my aunt, we also accepted Po-Feng and You-Huei's invitation to stay at their lakeside home. We took leisurely strolls along the tranquil lake, enjoyed the sweet and fresh country air, and feasted our eyes on the green and serene surroundings. We went to a few open houses together, chatting casually and nitpicking the design flaws and construction defects ... enjoying, along with our host, some of the most pleasant and lovely days of our lives. We were fortunate to be able to spend time with Po-Feng under his own roof, having outdoor breakfast by the lake, and renewing our acquaintance before he left us. The stay was short, yet it will be forever branded in our memory.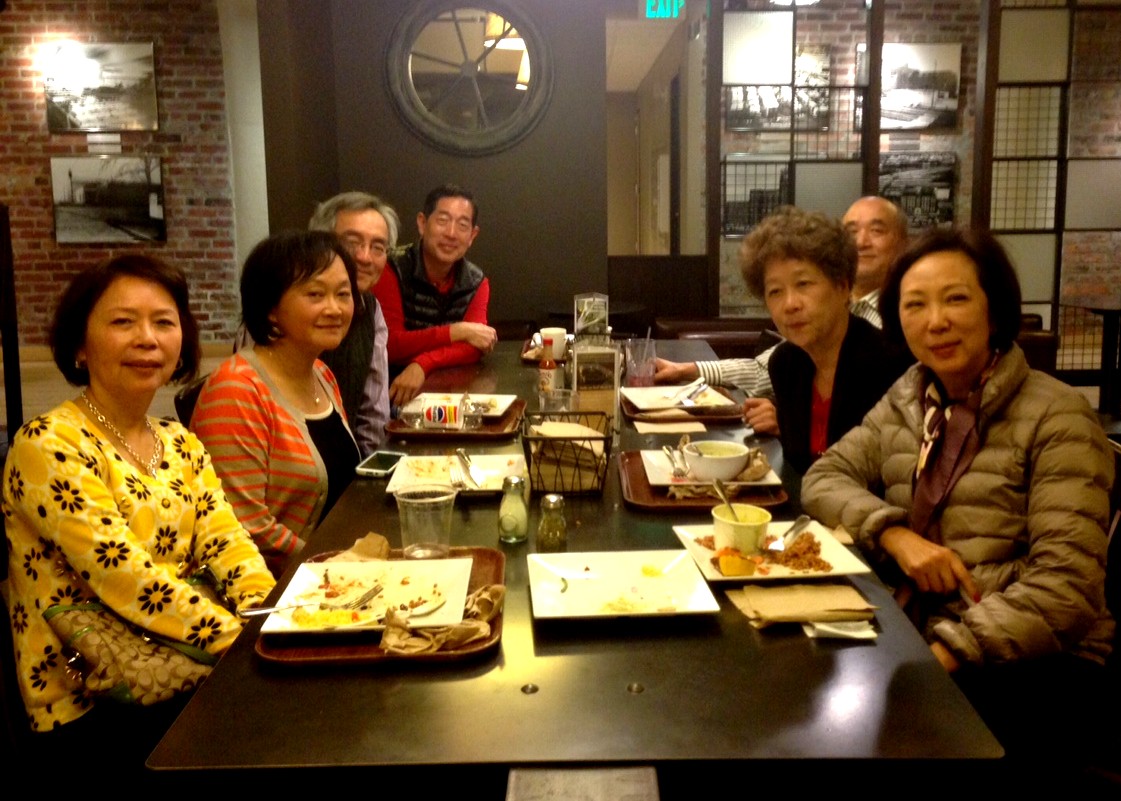 June 2013 a mini choir reunion in Seattle
I recall during our visit, being a blunt person, I asked Po-Feng directly why he did not use his talent as an architect to renovate and expand his lakeside home. At the time You-Huei replied for him telling me that Po-Feng's health was not good and could not take on such a project. I thought with his straight back and youthful handsome look he was a picture of good health. He even invited Ching-Mai to go play golf with him. How could he be suffering any health problems? I concluded perhaps he just got used to the leisurely pace they had adopted and simply wanted to avoid the hard work of such a project. So I dropped the subject. Now I regret making such an unfair assumption about him at the time. He is now gone from us, our goodbye in June turned into a permanent parting. Life is so unpredictable, how can one not cry and lament? If we proceed with the planned Seattle choir reunion to take place in August of next year, we will be short one bass (1/2 tenor)who had been a mainstay in our group. I doubt that I will be able to sing coming back to Po-Feng's old stomping ground and not finding him there!
Po-Feng was of a serene temperament, very quiet, but brilliant in his occasional humorous outburst. We had known each other for over 45 years since our Tunghai days, but did not have many opportunities to share in-depth conversations. I knew You-Huei even longer since we were classmates in high school. She is an eloquent speaker and tends to be the spokesperson of their household! If it were not for the fact that Po-Feng wrote the excellent post-reunion piece on Randall Thompson's Alleluia, I would not have recognized Po-Feng's abundant literary talent, excellent musical understanding, and the abiding love he had for Christ. Last year, after reading his article, I teased him about it challenging him whether he might have hired a ghost writer!(Sorry, Po-Feng, I wronged you again!)
Po-Feng and You-Huei met each other at Sunday school when they were 7 years old; they grew up together and promised to love each other at a very young age. They have been together for over 50 years. These past few years have been especially worry free as they took early retirement to lead a simpler life traveling back and forth between Taipei and Seattle. He must have been aware of his own health condition and chose to stop chasing after business opportunities. Po-Feng's departure is so sudden, without leaving any comforting words, it is impossible to imagine how difficult this must be for You-Huei who probably feels her life no longer has meaning! It is fortunate that she has her son, daughter in law, and grandson living nearby who must help her to fill that emptiness left behind by Po-Feng. I sincerely hope that all of our choir friends will bring forth the Tunghai spirit to comfort and care for Po-Feng's family, to lavish tender and warm friendship on them giving them the courage to move on in life. I believe Po-Feng, in his heavenly home, will appreciate our gesture and vow to be a Tunghai person forever!!
— Lai, Chao-Chen 賴兆貞
A Happy Day in Longwood Gardens(Sun Shao-Tang)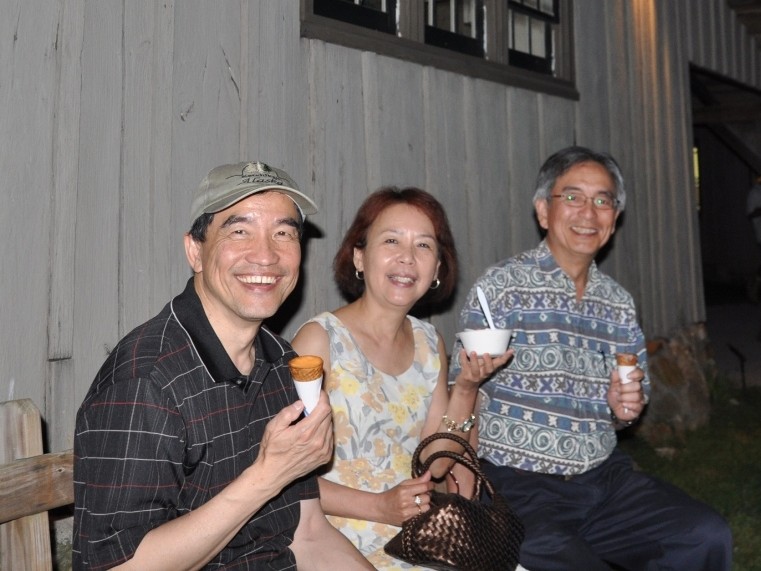 Shao-Tang, You-Huei, and Po-Feng enjoying ice cream at Woodside Farm
Dear choir mates in the class of 1972:
Po-Feng left us so suddenly. My heart is heavy with a sadness and powerlessness. Besides accepting this reality, I am also forced to confront the unavoidable coming of our own "old age". These past few years I have occasionally looked back on the paths I have taken. I realized I have been a lucky person. I was raised in an environment filled with love, never wanted for food, never experienced chaos brought on by wars, never endured any hardship. I came through many of life's milestones easily, raising a family, building a career, always free to do what I enjoy doing, and forging a strong bond with a group of dear friends who can't live without singing. I feel very satisfied with my life. I feel I have gained my share of the dividends of life.
In June of 2010 Po-Feng and You-Huei came to the East coast. They made time to visit me in my humble abode in Delaware. They stayed and visited with me for two days leaving me with many happy memories. Attached are pictures of us at Longwood Gardens and Woodside farm. I am grateful for their visit!
Most sincerely I would like to invite everyone to come and visit me, please, please, pretty please?
— Sun Shao-Tang 孫召棠
Po-Feng's emails Tell Us …(Sun Shao-Tang)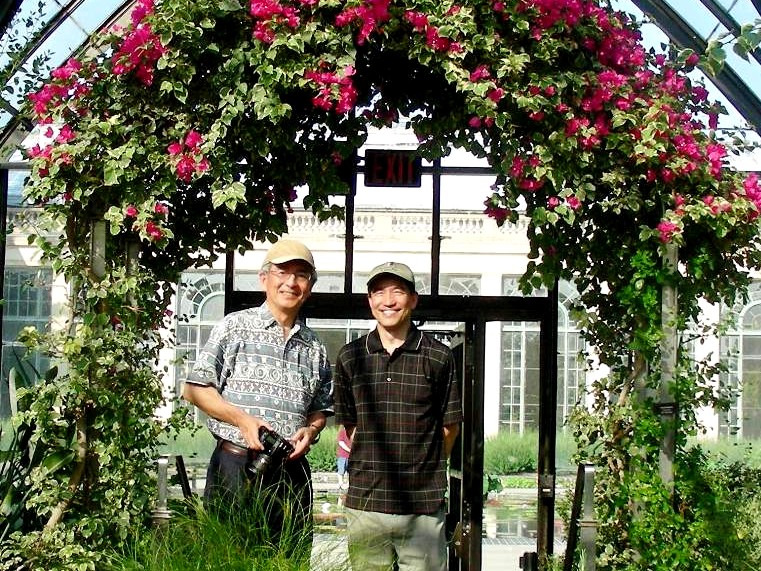 Po-Feng and Shao-Tang in Longwood Gardens
He was a passionate and serious student in the field of Music~~~~~~~~~~~~~~~~~~~~~~~
Mon, 18 May 2009 8:27 pm
Thanks Shao-Tang,
I just wanted to tell her that our church choir here at Pine Lake Covenant Church (Sammamish) sang the "Alleluia" by Randall Thompson on Mother's Day Sunday. (Singing Tenor part for me this time) It brought back lots of emotions and memories!
Here's a link:
https://www.youtube.com/watch?v=VSWgw8pZ50E
I also learned this piece of information, Thompson once wrote that the Alleluia is -- a very sad piece. The word "Alleluia" has so many possible interpretations. The music in my particular Alleluia cannot be made to sound joyous. It is a slow, sad piece, and ... here it is comparable to the Book of Job, where it is written, "The Lord gave and the Lord has taken away. Blessed be the name of the Lord."
Take care of yourself and the family too, we are only close to 60!
Po-Feng
He was a happy husband and father who loved his family~~~~~~~~~~~~~~~~~~~~~~~
Wed, Oct 26, 2011 8:43 pm
Dear Dr. Rose,
I have a secret need to tell, thanks to the training received in Tunghai, we now have a very diverse musical family!
40 years ago you allowed a non-music major couple (me and fiancee) to attend Tunghai Summer Music Camp (still remember Mozart g minor No. 40 and Berlioz's Symphony Fantastique).
As a result, our two sons inherited (some kind of) musical genes. Older son is a graphic art major turned full time musician working in Taipei, writing Hip-Hop music for pop singers like 張惠妹,蕭亞軒,陳弈迅,and most recently 棒棒堂(Lolliop-F).
The younger son is a full time Microsoft geek and part time choir director. He established a Young Adult Choir for his church in Boston, from auditioning members, re-arranging music, to conducting an Annual Christmas Benefit Concert (we are going to see the concert this December.)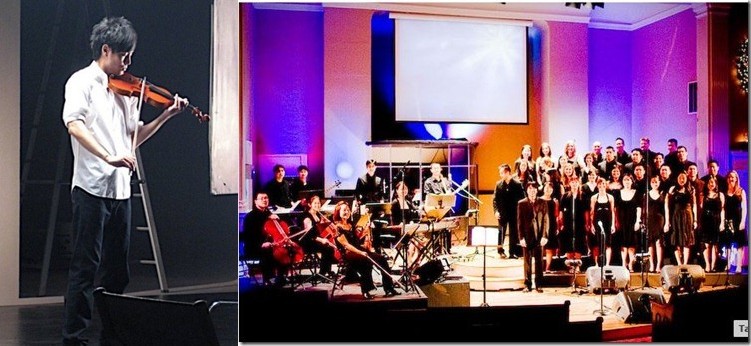 By the way, your favorite clarinetist Shao-Tang had the misfortune of getting a visit from me in June of 2010. I think he is still not fully recovered from playing the role of an exhausted tour guide, showing us all the great places in Delaware and Philadelphia.
Here are two wonderful ladies in 2004.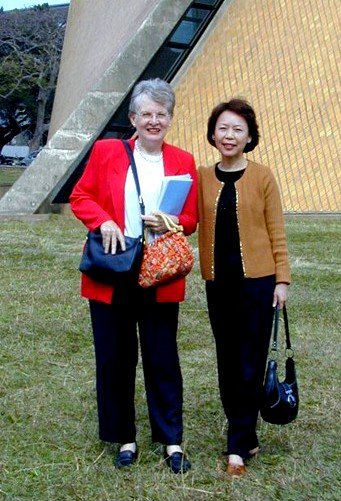 And I need to listen to Mozart K. 448 more often these days!
Po-Feng
He was a happy and proud grandfather~~~~~~~~~~~~~~~~~~~~~~~
Thu, May 10, 2012 1:23 pm
Dear Shao-Tang,
We are just fine, proudly achieved "grandparents" status on April 11. God gives us a healthy cute grandson Brandon.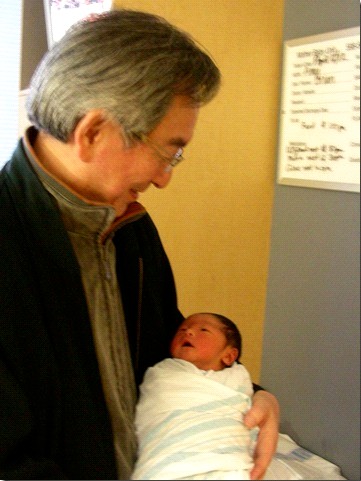 Po-Feng
His humor was just like him, gentle, serene, and self deprecating~~~~~~~~~~~~~~~~~~~~~~~
Tue, Oct 25, 2011 2:49 am
Hello Everyone,
As soon as I saw the age old photo from 許立(Thank you lady), I knew something's gotta be done.
So here it is, the Before & After (almost 40 years)photo, the white-haired guy with beautiful young ladies.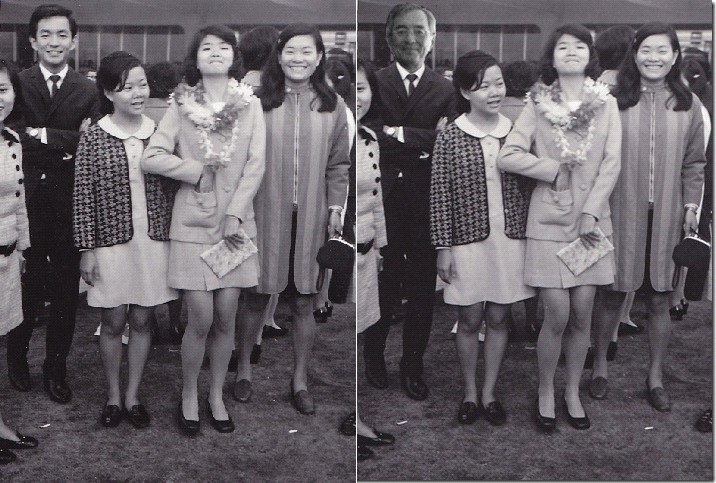 Po-Feng
— Sun Shao-Tang 孫召棠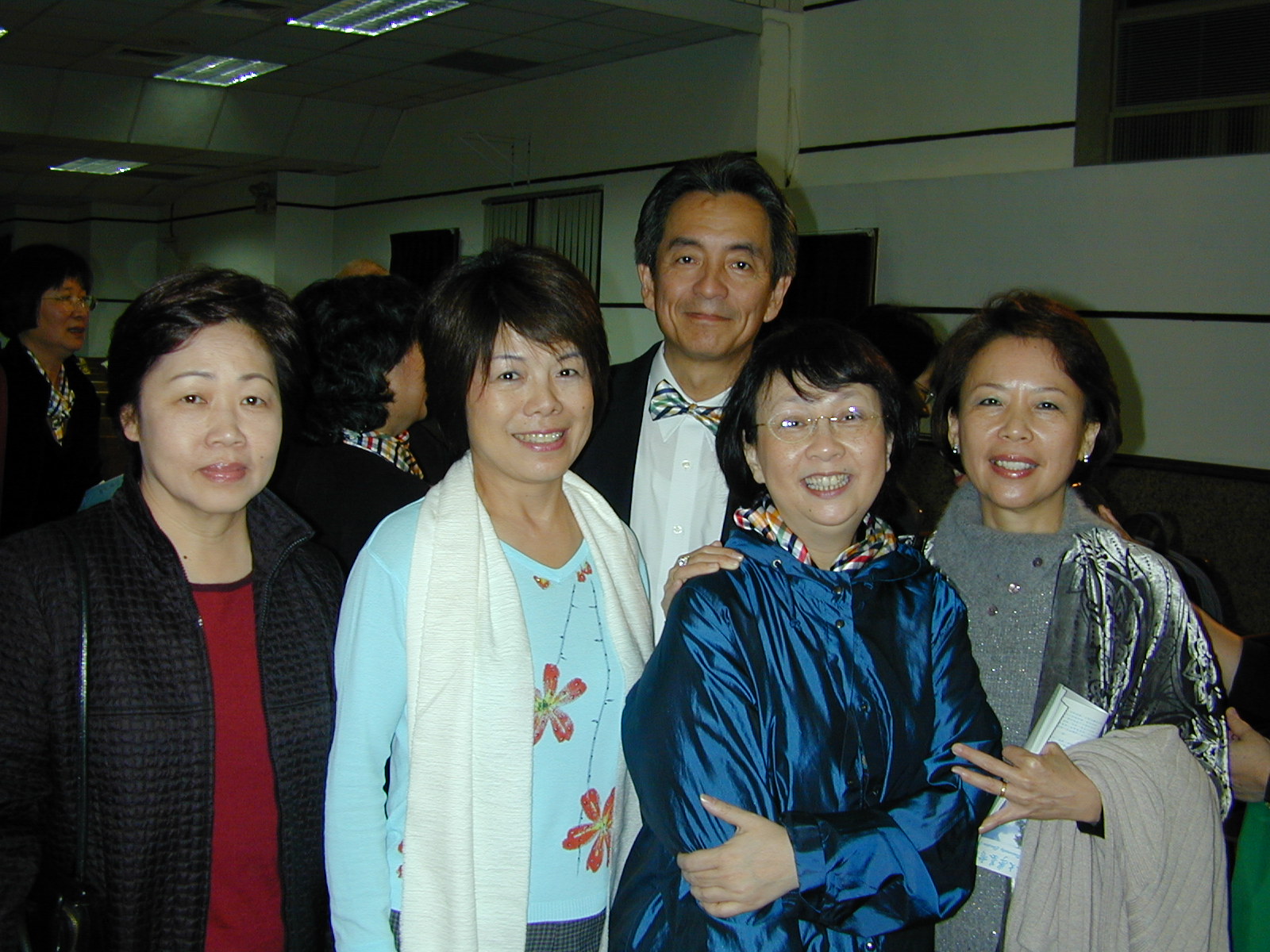 January 6, 2004 after the concert at Jacob Methodist Church
— Ku Huai-Chun 辜懷群
Again sing Alleluia to praise the Lord(Cheng Ying)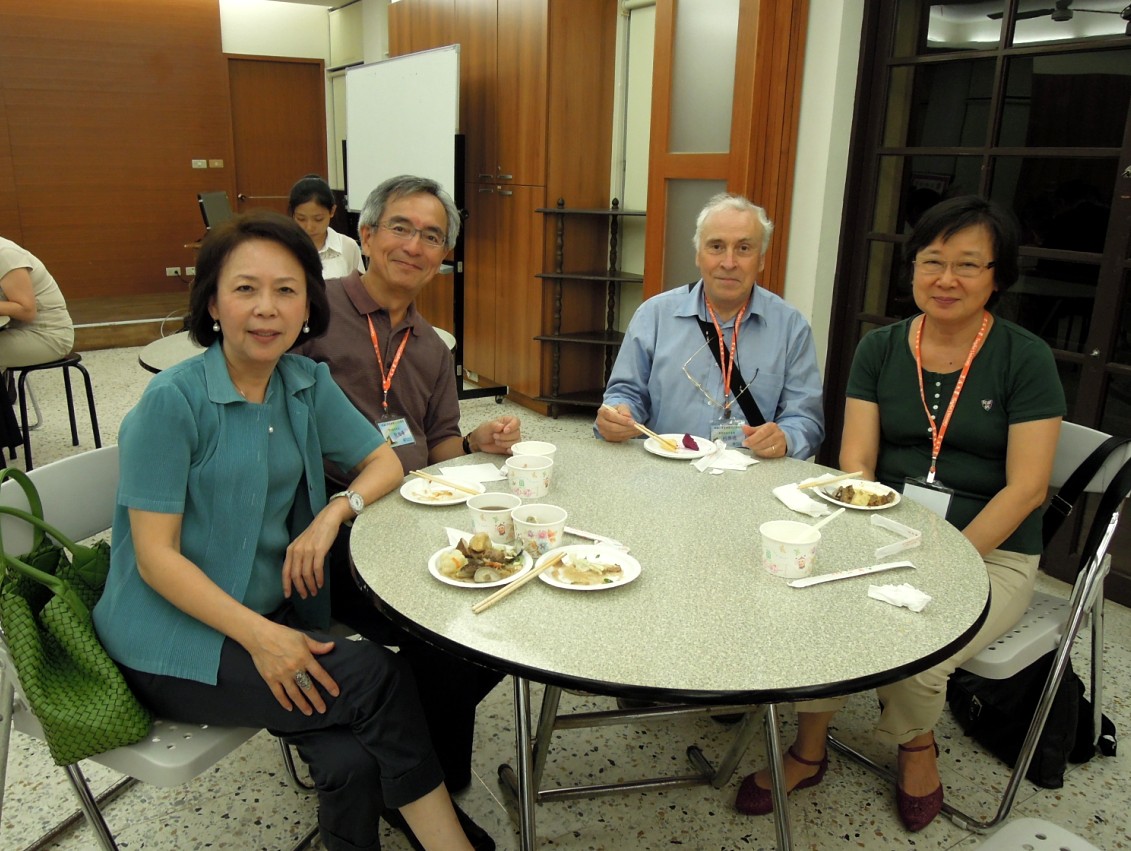 October 24, 2012 at Tunghai old religion center
Although, traditionally we in Sociology had always been friendly with those in Architecture; as a freshman, our first outing with another department was held with the department of Architecture.
Although, I had joined the choir in my freshman year; during the four years of college, at every rehearsal, we second altos usually sat in front of the second bass. I might have not "seen" Po-Feng at each rehearsal, but I always "heard" him. In addition, we gathered for training camps, we went on concert tours, ... the time we spent in each other's company cannot be said to be infrequent.
Although, Po-Feng believed he very early on had "made friends" with Yu-Ho and me; we did not find out until many years later that we served as his shield to hide from coeds who believed they were in love with him.
(After all, the campus forty years ago was thinly populated and very conservative. We were taught to never show affection in public. One can well imagine someone like Po-Feng, who could easily serve as a model for eye glasses or suits, who was comfortable singing church songs and popular songs alike, who stood out gloriously on stages whenever there was a concert, would have many secret admirers indeed.)
However, until twenty years after graduation, before I attended the 20th reunion for the 14th graduating class of Tunghai, I never felt that he and I lived in the same universe.
In the summer of 1992, the minute the three members of my family crossed the Atlantic, crossed the US continent, and stepped into my sister's home in San Francisco I received a phone call from the organizer of the event, my classmate in Sociology, Chen Wan-Shu. She asked me to call Po-Feng immediately. She claimed Po-Feng and his wife were living in LA, not too far from San Francisco, but they had no plans to participate in the reunion because they were getting ready to move back to Taiwan and were too busy with their packing. She instructed me to use all necessary means to persuade Po-Feng to come to the reunion. Truth is, I believe we had never had any contact in the twenty years since graduation. Why would he listen to me? Still, it was a job given to me and I dutifully called Po-Feng's number. I have no recollection of the conversation we had. I only knew before long I heard they had purchased the airline tickets and would attend. Soon after that we had a huge fun filled reunion, our very first after graduation. I was quite taken by surprise: he was a good pal after all!
Since that reunion in 1992, I gradually got to know Po-Feng better by attending all the reunions that have ever been organized, be it a reunion of the choir members or a reunion of the 14th graduating class. Even though these gatherings were few and far in between, yet I felt I had gotten close to Po-Feng. We could talk about any subjects that came up, politics, careers, families, ... Even though he was always calm and collected just as when he was young and he always used his trademark gentle tone of voice, he could be quite frank and without inhibition. It took me a while to get used to his style of conversation.
In 2004 we had a choir reunion which was held at Tunghai for the first time. We went back to the Fine Arts Center to rehearse and sing. At the rehearsal he mentioned on his flight to Taiwan he had a scare with his heart condition. An airline representative had to broadcast over the intercom to look for doctors who could help. Although it was a false alarm at the time, I feel sorry that I never did follow up with him on his health problem.
Last year I read his essay 「Sing Alleluia to praise the Lord」on the web site soon after our reunion. I cannot say I was not surprised this quiet and usually restrained friend would thus reveal his heart and soul, the heart and soul of a Christian! The piece resonated so much with me I was hoping to share some reflections with him at our next gathering. Then I heard he left us, in his usually quiet way, without leaving any words.
Rest in peace, my pal, you have gone ahead to see our Lord, but I believe we will meet again to sing Alleluia to praise the Lord.
— Cheng Ying 程瑩
An Incomprehensible Loss to the Mini Tunghai Choir in Seattle(Yang Shiao-Ping)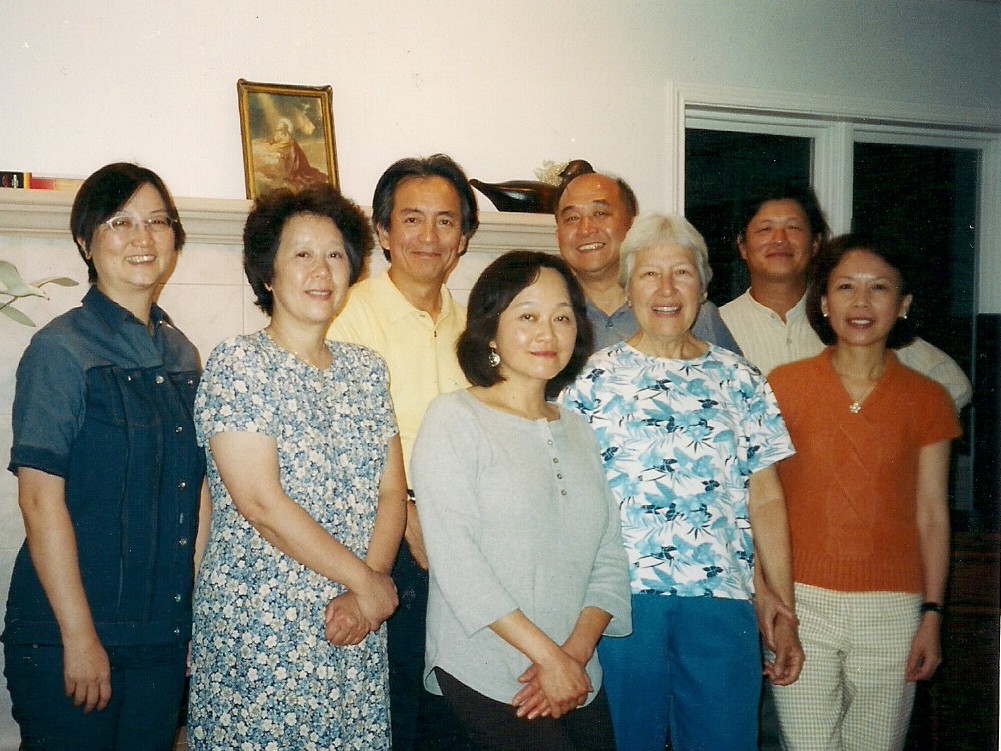 Mini choir gathering in Seattle in 2003
It's been more than a month and it's still so difficult to take in this shocking reality that Po-Fong has passed away. We the Choir folks here in Seattle are deeply saddened. We grieve with Po-Fong's beloved wife You-Huei. She has totally collapsed and has been trying hard (so hard !) to cope with the loss of her other half ( they were truly one.). We comforted her that Po-Fong would smile if he could see from above that she was happy again. You-Huei is courageous. Hope time will help her heal.
Po-Fong's sudden death is a huge loss for our Choir. He was a good bass and a good tenor too! In the last two years, during our practices several times in Seattle for our small choir group (formed under Miao Shiao-Ping's leadership, another wonderful person we Choir produced ), I learned that Po-Fong had a profound knowledge on church music. The last letter he sent to Yuan Chu-Ping entitled " ...Alleluia..." after our 2012 reunion showed how passionate he was for the songs we had learned from Mrs. Rice and how these songs connected to his devotion to God. Also the letter expressed his love and gratitude to Mrs. Rice. We could tell he wrote this article from the bottom of his heart. He told me after the 2012 reunion that "Alleluia" was his most favorite song. At the time I gave him a kind of a bitter smile, because it's so hard a song to sing. But now I would like to suggest next time when we have a chance to sing together let's sing "Alleluia" for Po-Fong. I don't care how hard it is.
There are 2 photos attached. One was taken several years ago ( 2003 ? ) when Mrs. Rice visited Seattle. The other one was Po-Fong holding his grandson Brandon on his 1st birthday this year.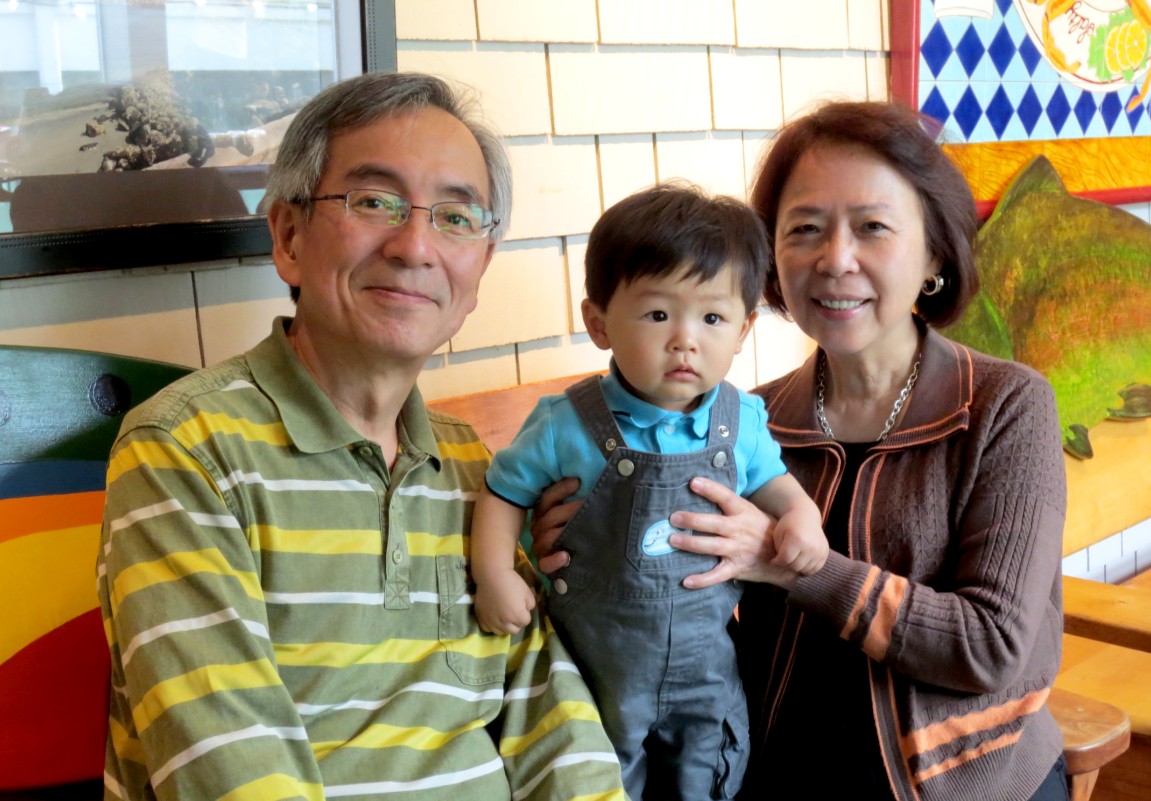 At Po-Feng's grandson's one year birthday
— Yang Shiao-Ping 楊小蘋
Safely Home (Wang Ming-Ling)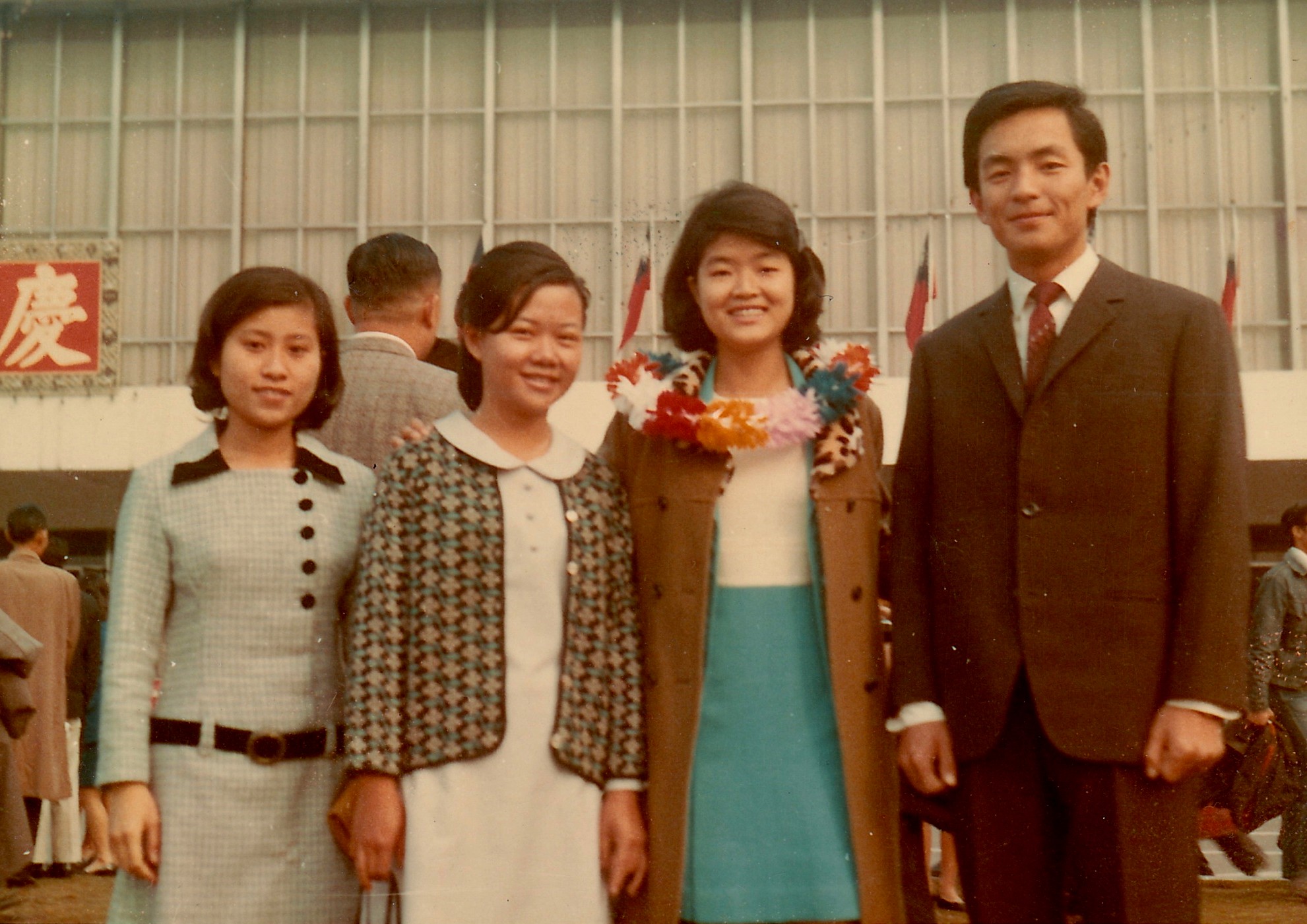 Wang Shu-Chung, Wang Ming-Ling, Hsu Li, and No Po-Feng in 1969
Dear Huai-Chun:
Everyone appreciates your sharing the information(Note:Huai-Chun forwarded to the choir members in the class of '72 some recent information about You-Huei since Po-Feng's passing.)I tried to contact Lai Chao-Chen while still in Taiwan. She was on the way to a meeting at Tunghai University. She traveled abroad soon after that.
I had planned to stop by Seattle on the way back to LA and wanted to go visit You-Huei. However, You-Huei was in deep mourning and Yuan Chu-Ping thought perhaps the timing was not right. I did still locate Wesley Hung (my sister's son, a classmate of Po-Feng's son, Alex Ni) and tried to find out more about how You-Huei was doing. However it was in vain.
We had our Thanksgiving dinner in Bellevue and said a special prayer for Po-Feng's family (my children and Po-Feng's children are also friends.)We know that losing a family member during the holiday season is especially difficult to endure. Today, for the first time since coming back to LA, I finally have some news of You-Huei through you. Hearing about how she was coping brought tears to my eyes that won't stop flowing ... Our family will forever remember Po-Feng. I hope he has safely returned to his beautiful home in Taiwan and reunited with his loving mother in heaven, forever singing Alleluia to praise the Lord ...
If possible, I hope to return to Taiwan for Chinese New Year at the end of January next year. Hopefully I will see You-Huei then and give her my condolence in person. In the mean time, please take good care, and sing Alleluia to praise the Lord!
Love,
James and Mary Yu
— Wang Ming-Ling 王明玲
Love Does Pass On Generation After Generation, Time Without End(Lu, Kung-Ching)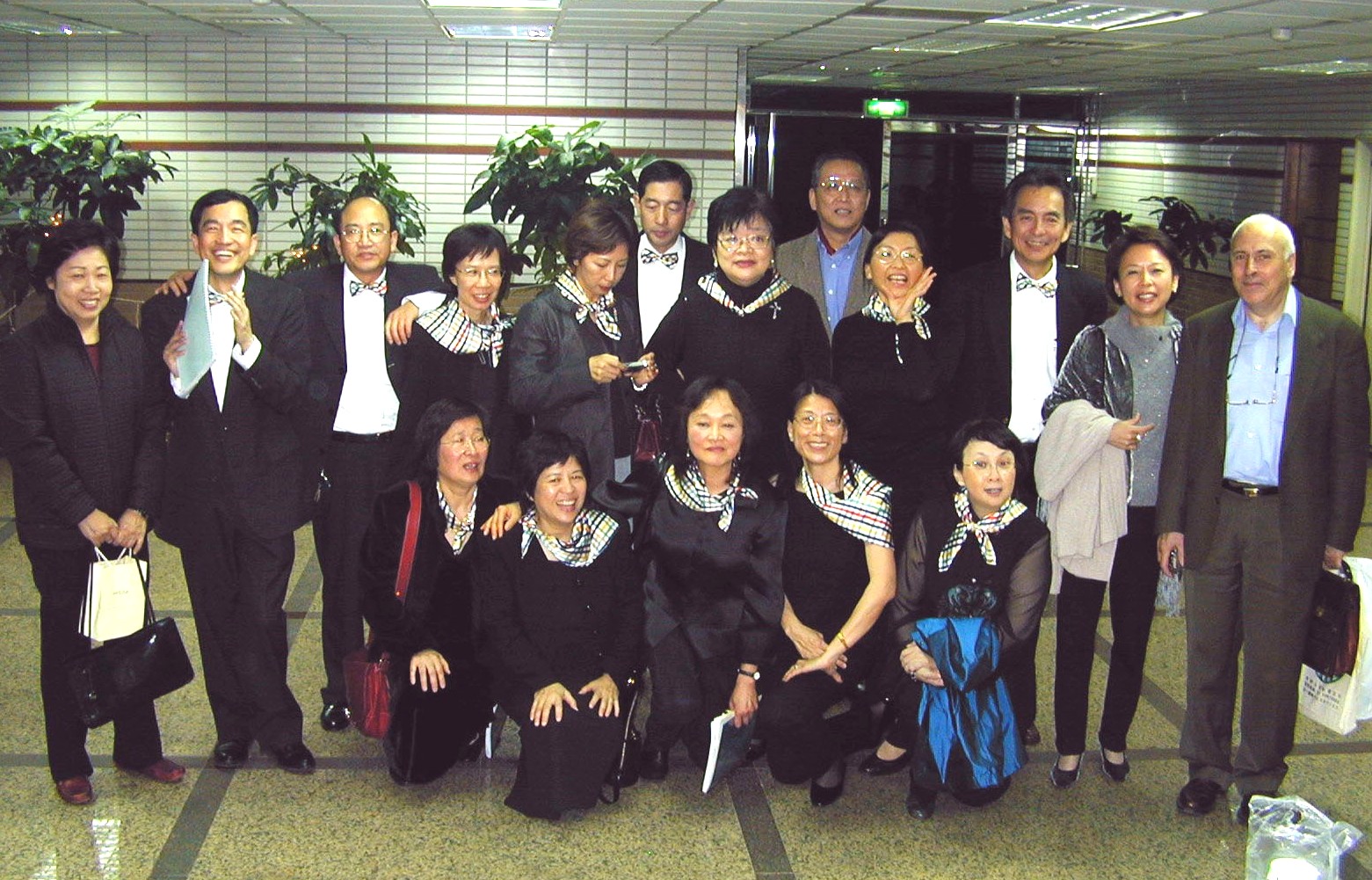 January 6, 2004 after the concert at Jacob Methodist Church
Last year around this time I was still immersed in the sweet memory of our 40th reunion after graduation as well as the choir reunion. Surprisingly I received an essay from Po-Feng ,「Sing Alleluia to praise the Lord」, without any prompting on my part. Thinking back, I recalled it was 45 years ago when I first met Po-Feng at our rehearsal in the Fine Arts Center. Except for the first impression of 「Wow! Handsome Kid」, I thought he was, even with the smile in his eyes, the calmest and most self restrained person I have ever met; I never expected that he would feel the impulse to bare his heart and soul. However, it was obvious that this 4th gathering of the choir members since graduation (2002、2004、2006、2012)touched him greatly and helped him to give voice to some of his deepest feelings.
Reading 「Sing Alleluia to praise the Lord」, I got a glimpse of Po-Feng's inner world. It moved me. His vivid description of how we were like a group of Taiwan mountaineers who lost contact with their base camp while attempting to ascend a difficult peak when we sang 「Little Road」was so true to my exact feeling when I was singing 「Little Road」(more aptly 「Rough and Bumpy Road」), it made me fall off my chair laughing! At the rehearsal last year, truly, I felt so for Mrs. Rice. It seemed indeed we were mountaineers up there now stopping to sniff some beautiful wild flowers, now jogging to catch up, while she was the tour guide waiving her arms frantically trying to bring the group back together. Humph .... Of course it is more than likely I was the only one lost in the wild with my daydreaming!
Po-Feng wrote about how he felt when he sang Alleluia for the first time after his mother passed away. I also lost my dear mother in December of 2011. I then truly understood the pain of such a loss. Your mother is one of the few people in this world who loves you without condition. When you have lost your mother, you must grow up in a hurry because you will no longer have that immense reservoir of love to draw strength from. In the mean time, from Po-Feng's essay and from our conversations at the reunion, I felt his tremendous joy of becoming a grandfather for the first time. Perhaps, as was in my own case, he saw, in his grandson's beautiful large eyes, his mother's loving face. Perhaps, again as in my case, he felt, in holding his grandson's small body, the all encompassing love his mother had for him flowing through his arms and gently touching his grandson.
Reading 「Sing Alleluia to praise the Lord」, I experienced the emotional journey he took preparing for and participating in the choir reunion. I am so grateful he wrote these feelings down on paper so that we can open the page any time we want to relive these happy memories. In his essay, he mentioned "sing Alleluia to praise the Lord" so many times, I could feel the yearning and the trust Po-Feng, as a Christian, had for God. It is no wonder when he wrote about his friendship with Lee Chin-Yong, another choir member who is now singing in God's choir, he provided a link to Ecclesiastes Chapter 3. I can well imagine how he would accept God's will with his graceful calm and quietness.
| | |
| --- | --- |
| To every thing there is a season | 每一件事情的發生都有它的季節 |
| and a time to every purpose under the heaven | 穹蒼下的每一個宗旨也都有它的時令 |
| A time to be born, and a time to die; | 生有時﹐逝亦有時﹔ |
| a time to sow, and a time to reap; | 栽種有時﹐收成亦有時﹔ |
| ... | ... |
| A time to weep, and a time to laugh; | 哭有時﹐笑亦有時﹔ |
| a time to mourn, and a time to dance; | 悲悼有時﹐歡舞亦有時﹔ |
| ... | ... |
Now Po-Feng has added his indomitable voice to God's choir, while, we, who are left behind, have an emptiness that seems impossible to fill ...
As choir mates we already feel so keenly the pain of losing Po-Feng. Imagine the pain his life long inseparable companion, You-Huei, must be suffering. At all the reunions, be it a reunion of the class of 1972 or a reunion of our choir, Po-Feng and his wife always attended together as a loving couple. Like the birds that mate for life and fly in pairs, when one leaves so suddenly, how will the other ever find the strength to fly again?
A poet from the Ching Dynasty, Na Lan Xin De, wrote these words in memory of his wife:「My robe wet through with tears, even though you asked me not to mourn you, how can I bear to forget?」When confronted with pain of such intensity, 「restrain your grief and take care of your health」are such empty words. You-Huei, I hope you will be surrounded by the love expressed by your sons, your daughter in law, your grandson, and your friends. They will bear witness to the inextinguishable true love that had passed through Po-Feng to you, to his children and grandchildren ... generation after generation, time without end.
— Lu, Kung-Ching 陸孔卿
Even in Times of Sorrow We Must Follow God's Guidance with Faith( Fang, Ping-Ping)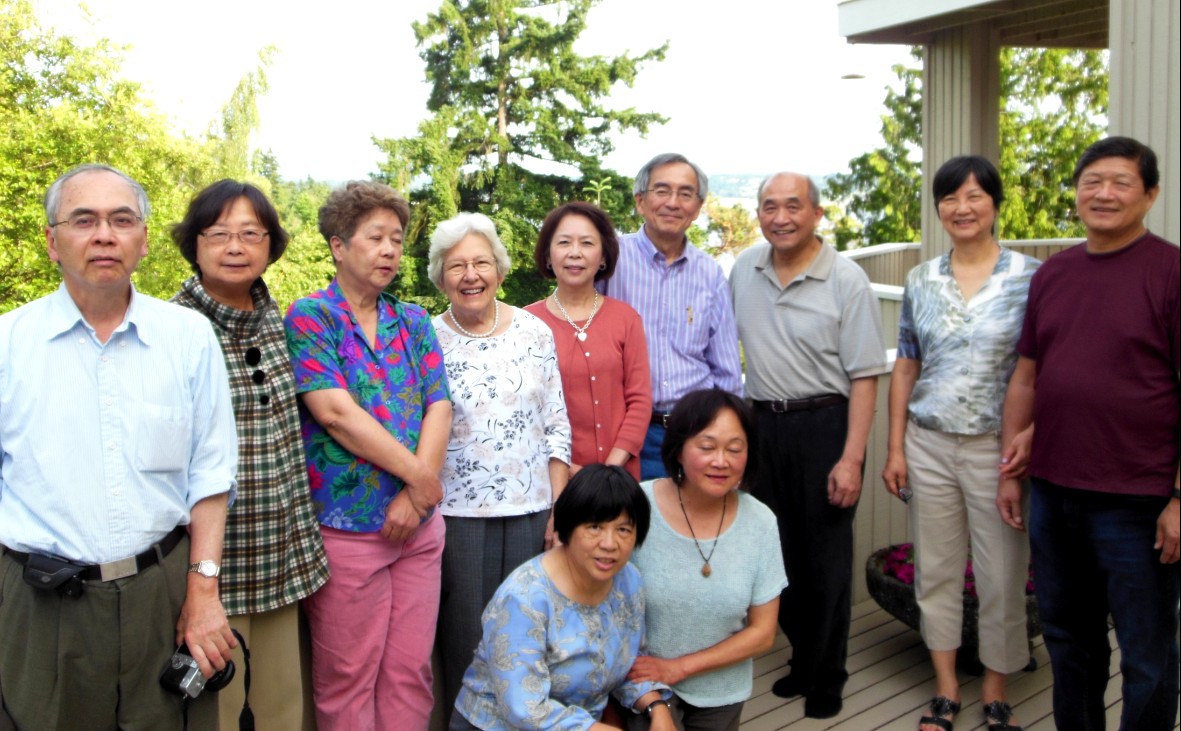 June 2013 in Seattle
Even though I know Po-Feng is now resting in God's loving care, still I feel the deep sorrow, and can find no words of comfort for You-Huei.
Po-Feng's article, 「Sing Alleluia to praise the Lord」, moved me very much. I admired how he could so clearly remember all the songs we sang in our college years. His earnest attitude toward the study of choir music and his knowledge are above my reach. When he analyzed the difficulties of the different parts of Alleluia, it helped so much to alleviate my sense of inadequacy.
I am grateful of his reminding us that Mrs. Rice has taught us so many beautiful church songs, ours to enjoy all of our lives. We will follow the guidance of our heavenly Father, rejoice in Him, and adore Him. Even in times of sorrow we must follow God's guidance with faith and sing Alleluia to praise the Lord.
Let us encourage each other with Po-Feng's favorite Bible quote 「Let everything that hath breath praise the Lord. Praise ye the Lord」(Psalm 150:6). In the mean time, You-Huei's junior high classmate(a member of my church), Aileen Yang, has written the following essay to share. Let us remember Po-Feng together ...
~~~~~~~~~~~~~~~~~~~~~~~
You Huei is my good friend since middle school. I knew that she and PoFeng, a church friend that she has known since very young, has become a couple in college. Since PoFeng is considered as the most handsome fine young man from my elementary school, I was so happy for You Huei. You Huei must has certain traits to attract Po Feng to set his heart on at such young age.
After attending their engagement party, we all separated and went on our journey to US. One day in 1990, an anonymous lady called me. Surprisingly, I can recognize that it was You Huei immediately after separating for almost 10 years.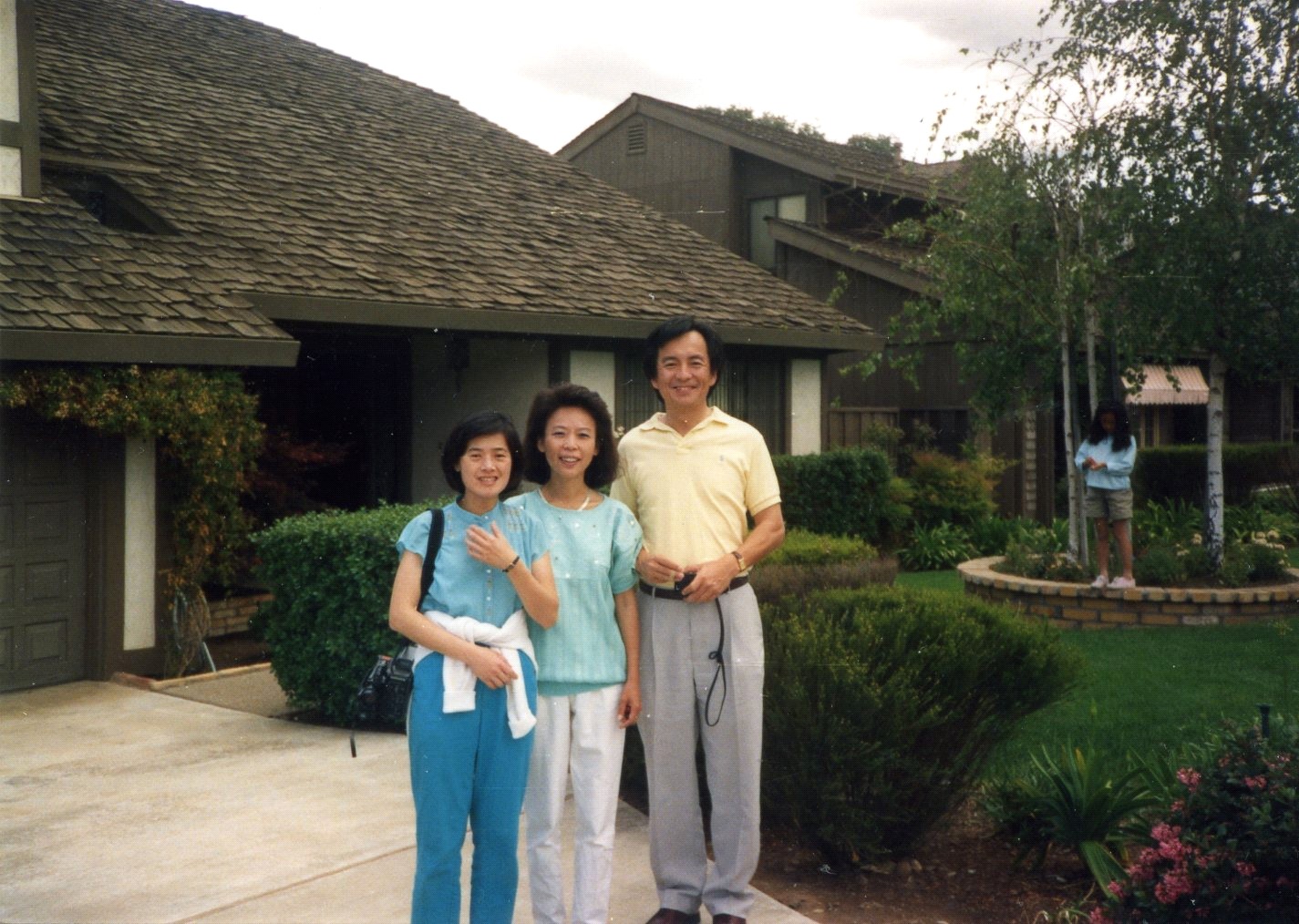 Since then, we got to know more about PoFeng when we spent time together with their families.
In May, 2011, We visited them night before we took the Alaska Cruise at Seattle. We are so impressed when we saw PoFeng played with his airplane kits. During the visit, we invited them to join us for our annual Lake Tahoe vacation that June. They purchased the airplane tickets right away. Later, we learned that it was the week of their anniversary. We had a wonderful time together. I learned that PoFeng is such a talented and patient photographer. PoFeng sent us a DVD with lots of good photos of our trip. Since PoFeng is the photographer, he is in none of these photos.
But, these are some photos from his portfolio: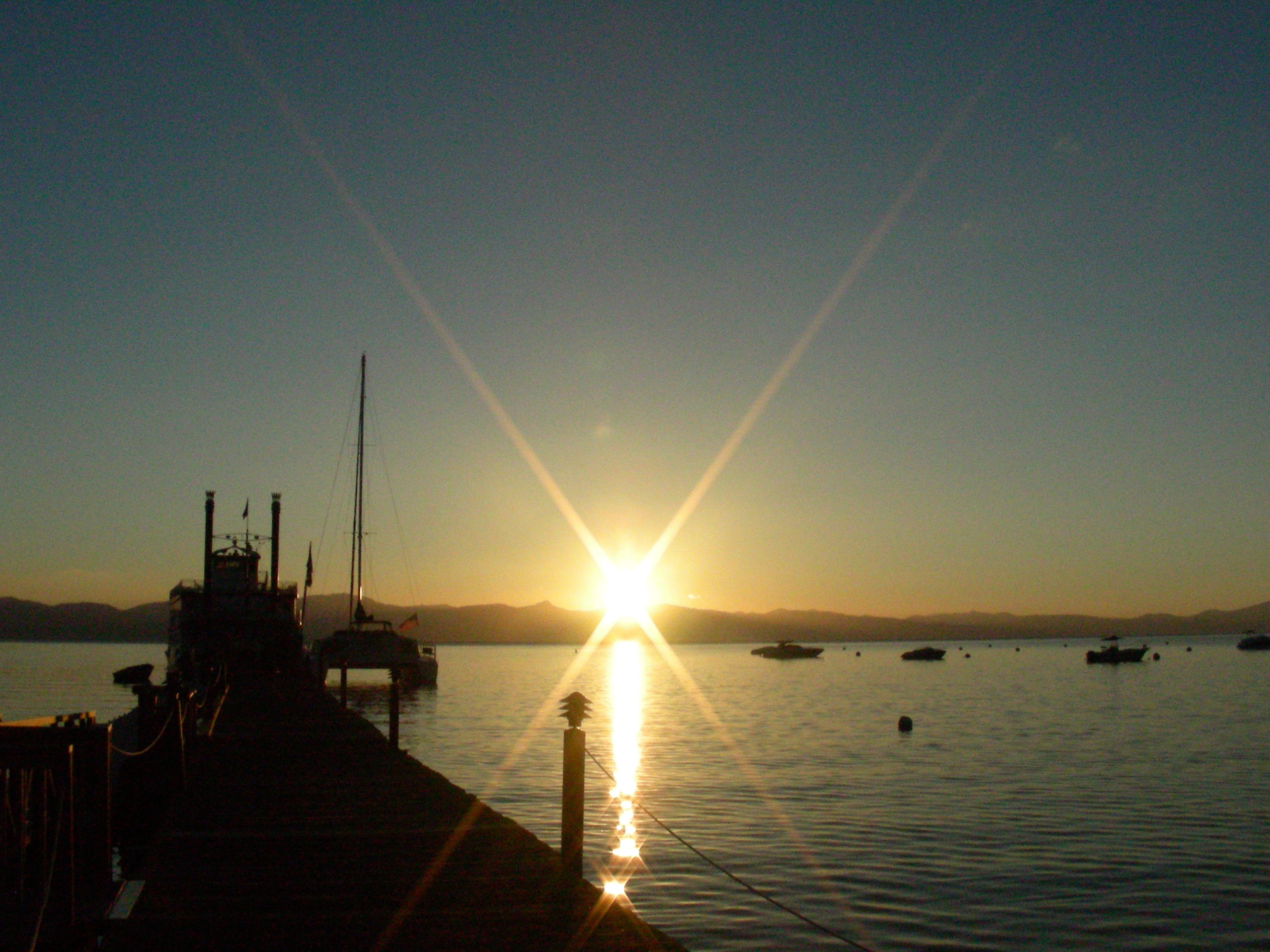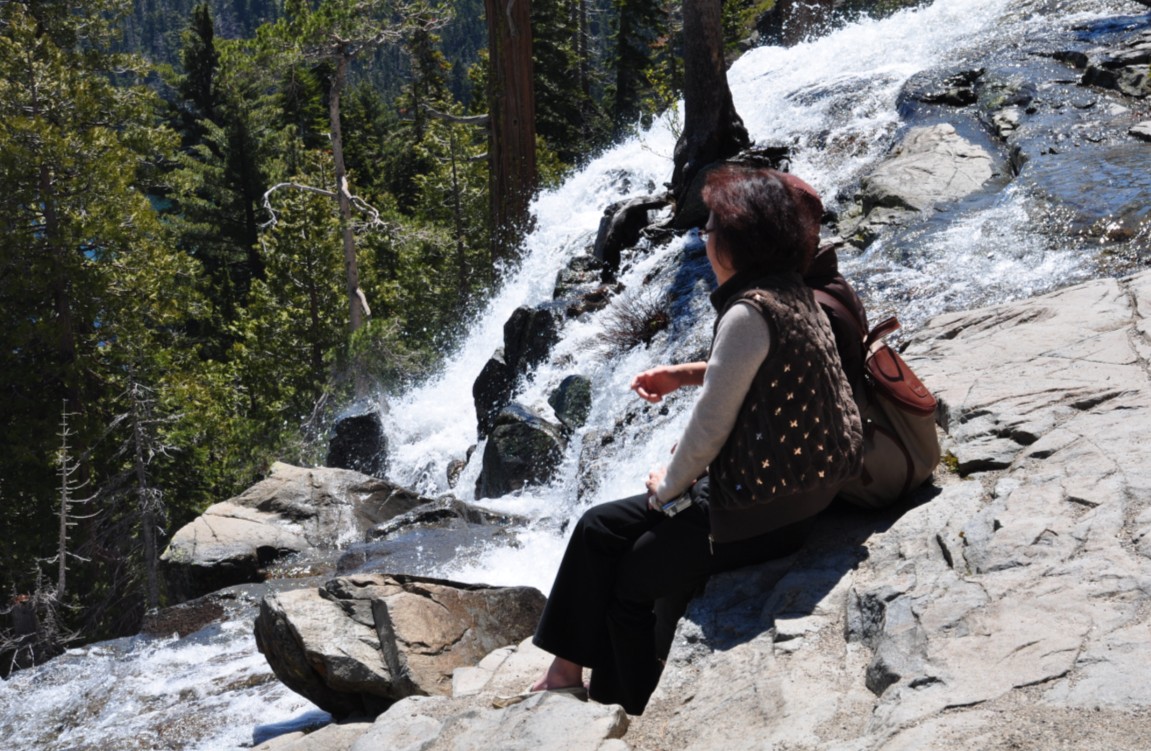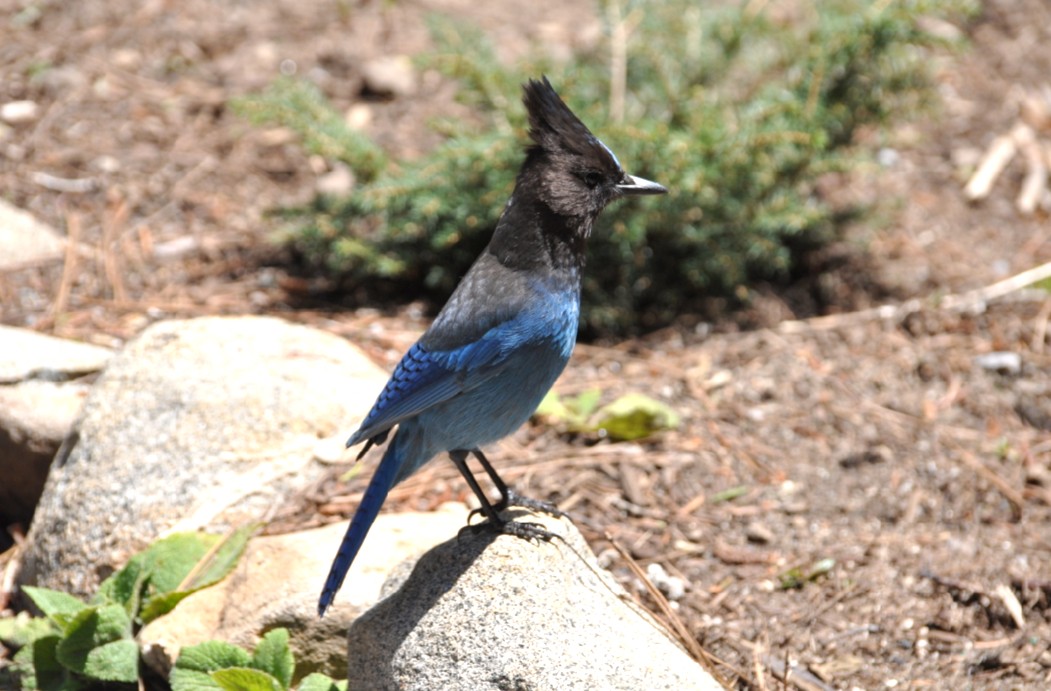 This is after PoFeng found Youhuei's eye glasses that was dropped under the bridge at eagle fall around their 37th anniversary.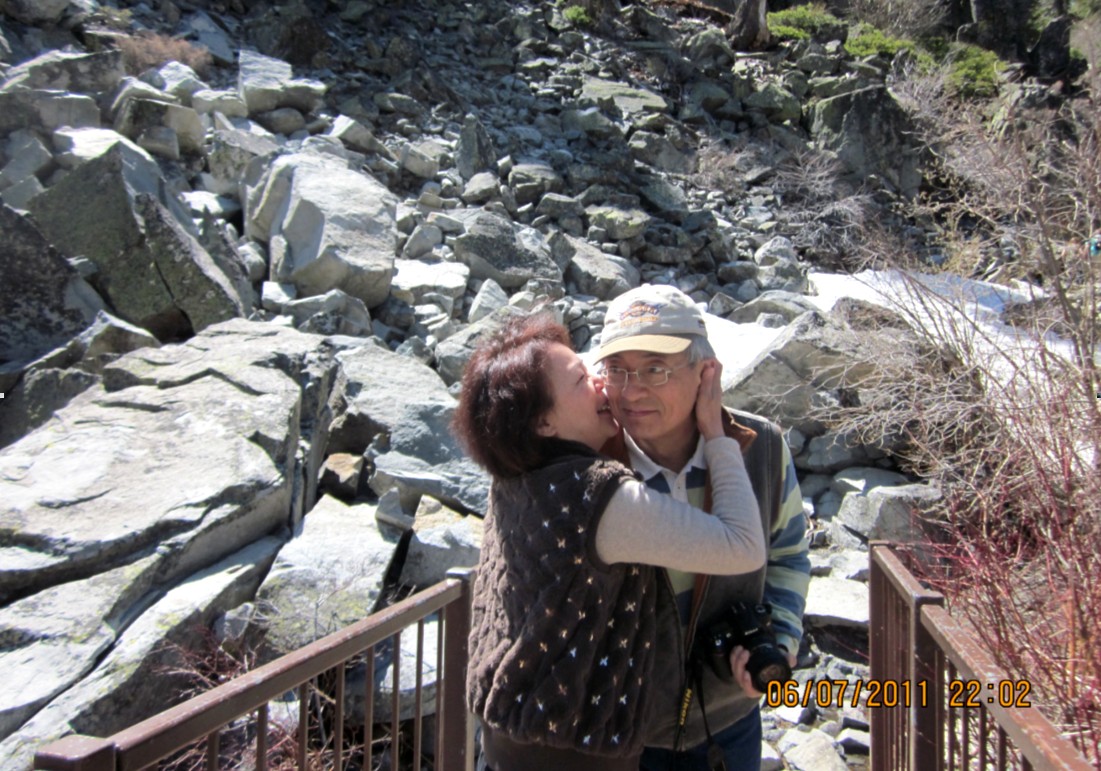 This one is where they wanted to build their lakeside house for the later part of their life.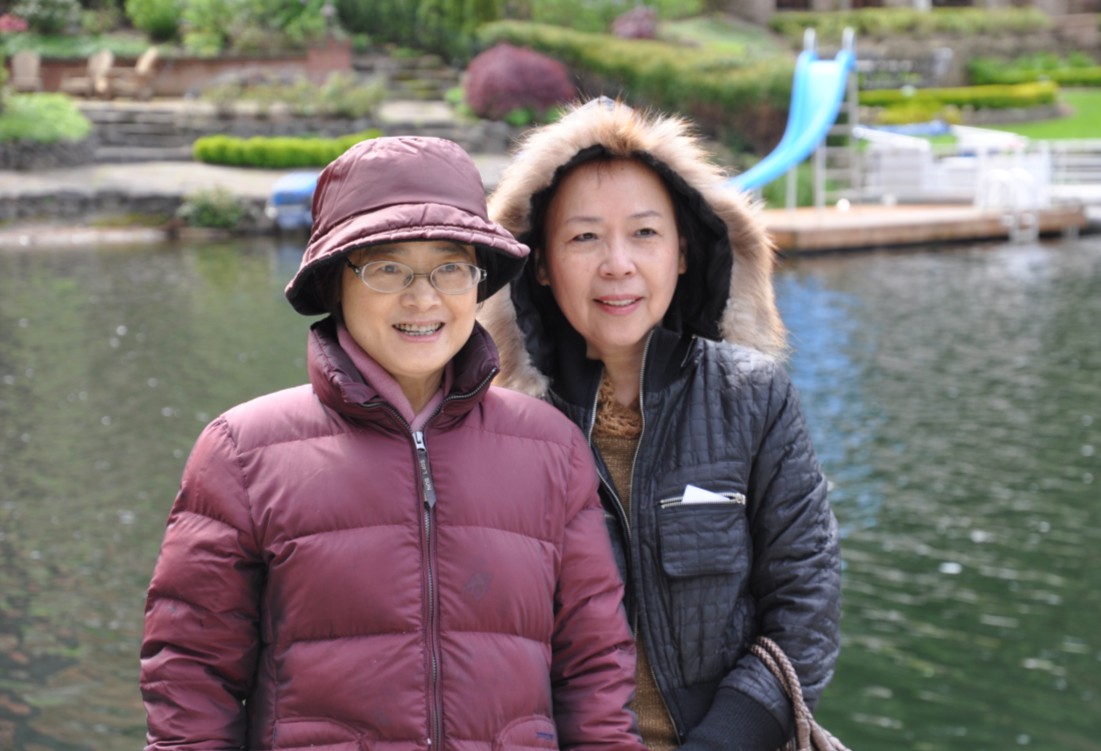 We promised to go back to Seattle after their new lake front house is built. (Planned in 2014)
We didn't realize that GOD's plan is higher than our plan. GOD is so anxious to bring PoFeng to rest in HIS house. We believe PoFeng is rest in peace in GOD's arm. We are also appreciated that You Huei has Bryan's families close by during this hardest time of her life.
---- From Aileen Yang ( 方釆玲 )
— Fang, Ping-Ping 方玢玢
Three emails from Ni Po-Feng(Chao Ching-I)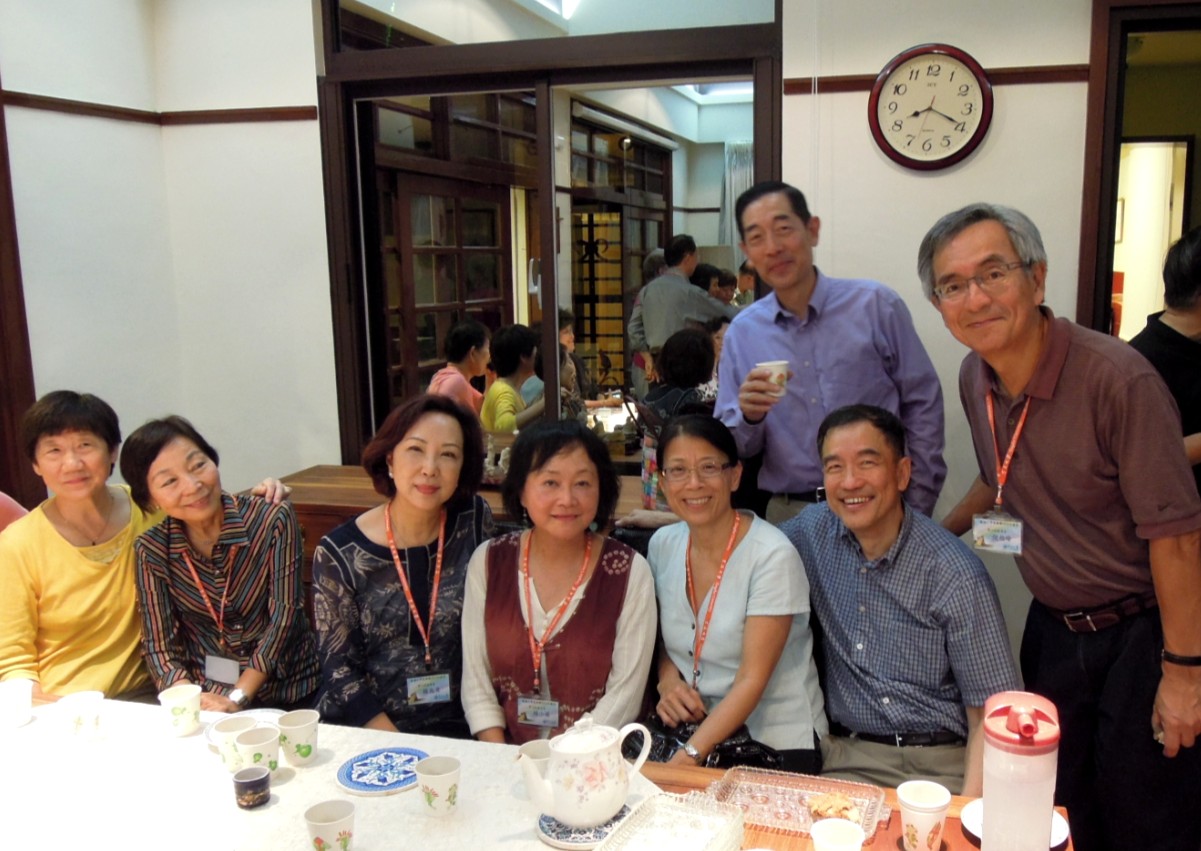 October 24, 2012 at Dr. Rose's
Dear beloved choir friends,
Two days ago I learned about the sudden departure of our choir friend 倪伯峰, and I was totally saddened and shocked. I can not believe the tragic news because David looked healthy and happy at our Oct 2012 TH choir reunion.
Thinking back, during Dec. of 2011 & Jan. of 2012 when I first started discussing our choir reunion song selection with our choir members, David and I had exchanged several emails. I was amazed at how smart, happy, helpful, friendly, and calm he sounded in his emails, and how brilliant his son and daughter-in-law have been in music, academics, and other areas. Of course, David and Corina were most proud and happy having their most adorable and handsome grandson. I learned a lot from reading his kind and well-written emails, and also enjoyed the YouTube songs he sent to me (especially those choir songs conducted by his son at Boston before.)
This morning I went through my Yahoo email, and found 3 previous emails I received from David. Please see the attached file I made which contains 3 David's 3 emails, 2 choir reunion pictures, and a 'guitar pattern' graduation card design made by David for our 1969 choir member graduates. I thought I will share these precious letters and pictures with you for our memories.
By the way, even though my email communications with David was brief in 2011/2012, I have learned a lot on religion, music, and friendship from him. Till now, I still listen to Highrock Church Choir performances, especially during the Christmas season.
Let us pray David's (伯峰) soul will forever rest in peace and in heaven with God and angels. My deep sympathy and my hearts go to Corina and her entire family at this difficult and heart-breaking period.
love,
Patsy 趙靜怡

~~~~~~~~~~~~~~~~~~~~~~~
Dec. 24, 2011

Dear Patsy,
Just have to brag about my son, the amateur conductor, and his church choir in Boston (老王賣瓜自賣自誇) . Please see the link:
~~~~~~~~~~~~~~~~~~~~~~~
Jan. 4, 2012

Dear Patsy,
Thank you for the kind words, last December was the first time we attended my son's Christmas concert, we had no idea that he could direct a choir. (and made them memorized the music)
He moved to Boston in 2006 (working for Microsoft) and established a new young adult choir for Highrock church. The concert was their 5th annual Christmas Benefit Concert, with 72 members on stage. By the way, the soloist of "A Savior Born" is my daughter-in-law Amy, can you tell she is going to have a baby in April? They just moved back to Seattle last week because Amy is starting her post-doctoral research at UW, and we promised to take care of the new baby.
On the first day of new year we had dinner at Larry (李龍貴) & Grace Li's home, there were 7 Tunghai choir members out of 10 people at the table. Everyone is planning to attend the choir reunion! We wish you and your family, a very happy new year too!
~~~~~~~~~~~~~~~~~~~~~~~
Nov. 2, 2011
Hi Patsy,
I sent an email to Mrs. Rice 2 days ago. Sun Shao-Tang used to relay Mrs. Rice's news to us, but I only learned her recent surgeries from you, Patsy. (Oops, the email was returned - the correct address should be ........)
When I retired from singing in church choir here 2 years ago, I sent her an email on Mother's Day; the last song we sang was "Alleluia" by Randall Thompson, I wanted to thank her for introducing so many meaningful hymns to us. If I remember correctly, this piece was one of our choir music in "68 - '69; here's a recent version by 台大 Choir on YouTube.
Alleluia (Randall Thompson) by National Taiwan University Chorus
And by the way there's also this interesting link on YouTube:
Tunghai University Choir Reunion 2004
Ni, Po-Feng (Rejoicing in the Lord)
— Chao Ching-I 趙靜怡
Will Always Remember You(Yuan Chu-Ping)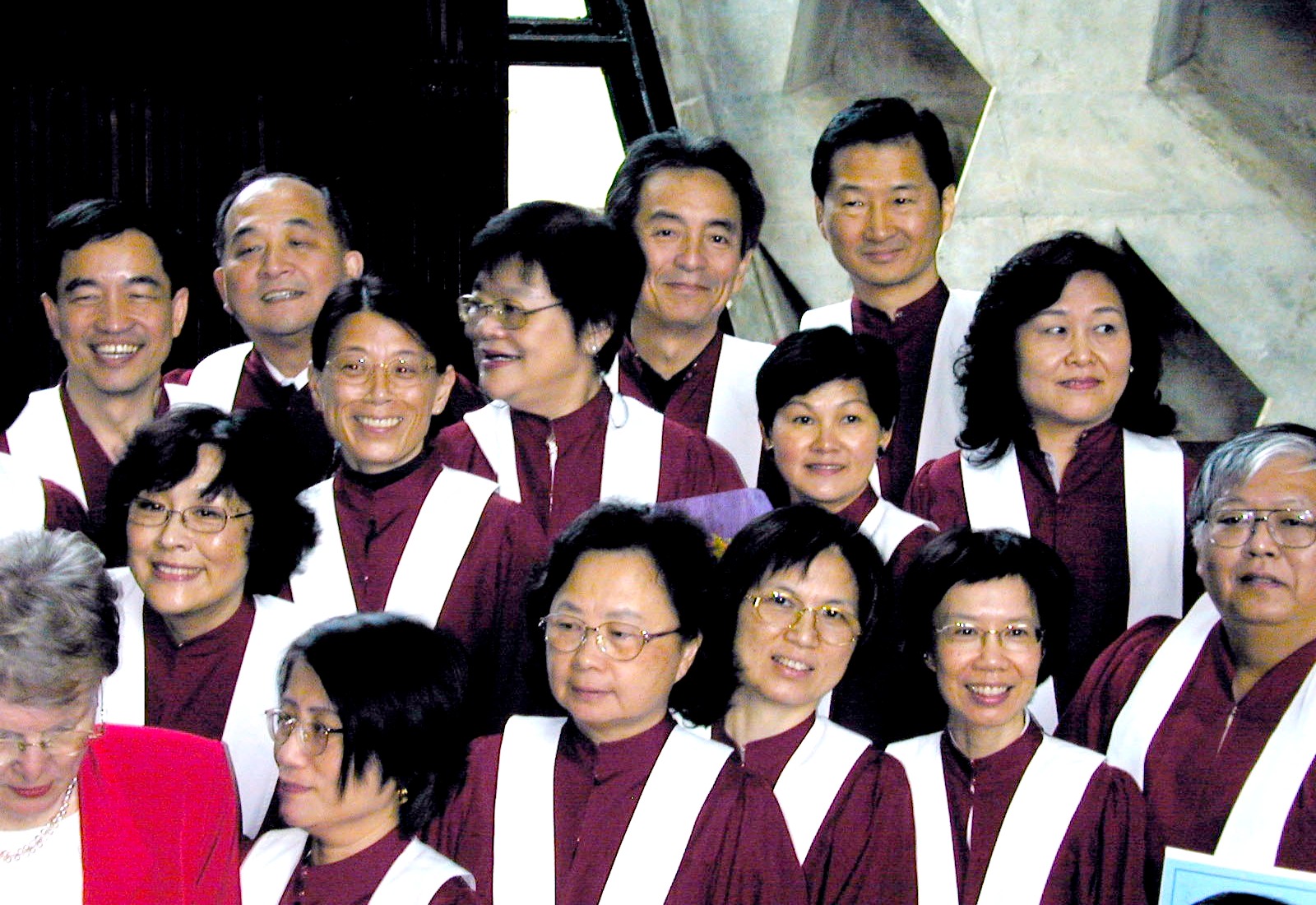 January 4, 2004 Sunday service at Luce Chapel
I was not in the class of 1972, therefore I did not have much contact with Po-Feng during my college years. However, I had opportunities to chat with him during the few reunions we both attended and I have come to admire, very much, the type of person he was.
Po-Feng left us quite suddenly. I still remember how he talked and laughed in his usual quiet manner at last year's choir reunion. He even wrote an essay after the reunion for remembrance. Below is the email he sent when he shared his article. May he rest in peace in God's care.
Po-Feng, we will always remember you.
~~~~~~~~~~~~~~~~~~~~~~~
2012/12/18 (Tuesday) 11:50 AM
Chu-Ping, greetings,
After the reunion I returned to Seattle with an overwhelming feeling that there were words stuck in my throat which must come out. I toiled night and day, experiencing much labor pain(typing in Chinese for me was almost as bad as laboring to give birth), but eventually finished this poorly written essay. Even though I seemed to be doing a sword play in front of excellent fencing masters, I did just want to share my wonderful experience with everyone.
In my essay perhaps I carried on too much in long and wordy paragraphs, did not know my own limitations in writing a good article, and misused idioms all over the place; the aim, however, was really just to beg a smile from you. Ultimately my words are meant to show Mrs. Rice my deep respect and great appreciation for her teaching. I sincerely hope that particular sentiment will resonate with my fellow choir members.
Wishing you all a wonderful Christmas!
Ni, Po-Feng,Class of '72 (Rejoicing in the Lord)
— Yuan, Chu-Ping 袁祝平
In Po-Feng's Own Words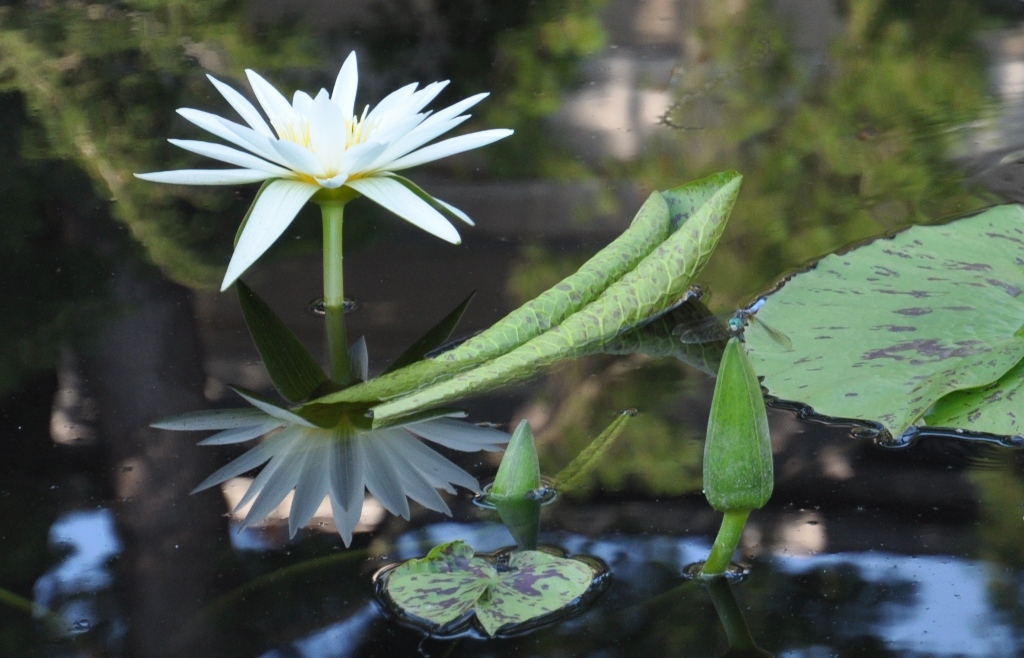 Lotus flower in June at Longwood Gardens - a photograph by Po-Feng
當唱 Alleluia 讚美主! — Ni Po-Feng / 倪伯峰
Sing Alleluia to Praise the Lord! — Ni Po-Feng
Mrs. Rice Goes To Seattle — Ni Po-Feng
Remembering Lee Chin-Yong — Ni Po-Feng
To every thing there is a season, turn, turn, turn