To: Tunghai Choir members
Date: 09/08/2002
Subject: Mrs. Rice's Visit to Seattle
Dear Choir Members,
Something incredible happened, would you believe our beloved Mrs. Rice actually sings pop music Karaoke?
At Miao XioPing's multi-million dollars lakeside home (Bill Gates' neighbor), in front of the most luxurious Home-Theater/Karaoke machine I've ever seen, Mrs. Rice held a microphone and started the Rock & Roll evening by singing "Don't Get Around Much Any More" with her deep and beautiful alto voice! Not to be intimidated, I immediately followed up with my own rendition of "Mona Lisa", then MiaoXiaoPing and her husband Eric Cheng, and Yang XiaoPing contributed their favorite songs. It was the first time ever for Mrs. Rice and Yang XiaoPing to try Karaoke singing, but we just kept on singing with fun and 'no pressure' (ain't nobody's worrying about the correct singing technique that Mrs. Rice injected into us). Mrs. Rice also sang "Blowin' In The Wind", "Scarborough Fair" and other songs that this old man can't remember the titles of, because it was well past midnight when we departed the Chengs' residence.
That was what happened on September 1, when Mrs. Rice and her friend traveled to Seattle, after a welcoming diner at a Chinese restaurant with Mrs. Rice and her friend Mary Ellen, Yang XiaoPing, Miao XiaoPing (with her husband Eric) and me (with my wife Youhuei). Li LongGui (Larry) and Zhang BiRong (Grace) were supposed be there too but some how they were not able to make it that evening.
The following day Miao XiaoPing was kind enough to take Mrs. Rice and her friend to some of the sight-seeing places in downtown Seattle during the day and we all got together again at Li's house in the evening for diner (much thanks to Larry and Grace). Again we had a wonderful time eating, drinking (a little wine) and chatting about the good old times as well as the present and future happenings. (Do you believe the multi-talented Mr. Larry Li is getting ready to publish his first real NOVEL?) (Three cheers to Tunghai's Foreign Language Department)
In fact we enjoyed the occasion so much that a formal proposal was made, "Since we need to prepare for the up coming Choir reunion at Taichung in late 2003 (early 2004?) why don't we have a choir rehearsal in Seattle before that?" What do you think about the possibility of doing that, doctor Sun?
At the end we gathered around the piano and sang our all time favorite, "The Lore Bless You and Keep You", we had two sopranos and one each of alto, tenor, base while Youhuei played the piano. The beautiful/harmonious sound was very 'moving', to say the least and we were so proud of ourselves that we wanted to sign it again and again. (Don't we all feel the same when any 4-parts combination could get together!)
Those of us in Seattle are very fortunate to have met Mrs. Rice again so soon after the 30th reunion, wish you all could have the opportunity to get together from time to time in the future.
Here is a picture to document the good time!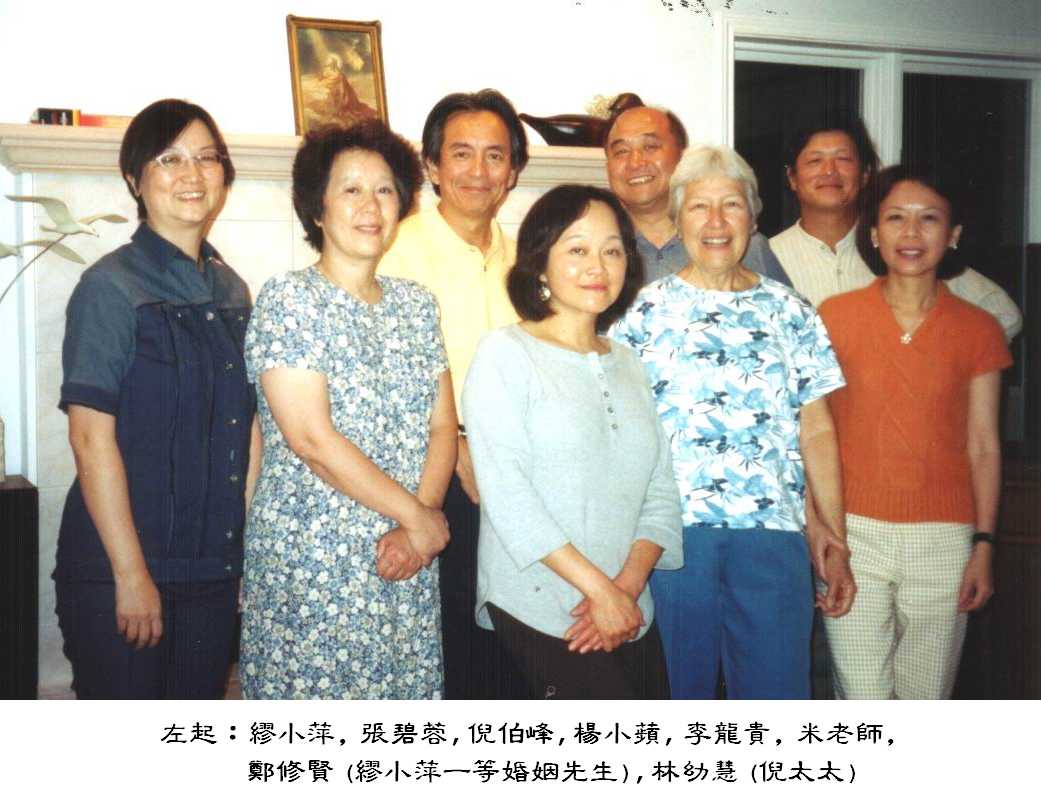 God Bless,
Ni, Po-Feng ('72 Architecture)